Take a Road Trip With Your Preschoolers!
Kendra Fletcher
Friday, November 29, 2013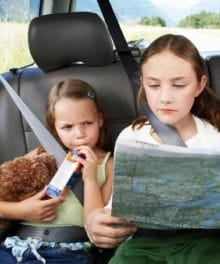 Road trip! Sounds so fun, doesn't it? I'm always up for a road trip until I remember how much work it can be with preschoolers. Still, travel and field trips, getting out and experiencing something new, and broadening my horizons even if I can't stop and read every placard in the museum make it worth it.
Have you given up the thought of putting your brood in the car and going somewhere without your spouse? It's hard, isn't it? I've learned a few tricks over the years and hope these might bless you too.
Be Prepared!
It is possible to be prepared for a spur-of-the-moment field trip, even though that sounds like a contradiction. If you take the time to make a "road trip" checklist now, you won't have to think through what to gather every time, and jumping in the car will be that much more doable.
Here's a starter list:
Diaper bag
Snacks
Water bottles
Car boxes (more about these below)
Extra clothes for baby and toddler
Music and DVDs (educational DVDs are like school on the road)
Blankets or toys your children sleep with (in case you want them to nap in the car)
Camera
Medicine or other necessary medical items
Add or subtract to the list above as it relates to your family. Keep it saved on your computer so you don't have to think about what to pack every time. It's the mental work that exhausts me.
Keep Your Expectations Low
You've probably come to realize as a parent that it's often our unmet expectations that make or break our experiences with our kids. I remember hearing years ago, "Life wouldn't be so hard if we didn't expect it to be so easy." My frustration level with my kids grows out of control quickly when I have unrealistic expectations of them in any given situation. So what does it look like to have realistic expectations in regard to our little ones during travel or field trips? For me, it's expecting them to act like the little people they are. That means I expect them to have to go to the bathroom eight minutes after we've left a place. I expect my daughter who is prone to motion sickness to throw up. I expect to have to role play with them about how to behave in the place where we are going. I expect them to spill at least one drink on their shirts/laps/siblings/me. I expect to need to change a really foul diaper the minute we reach a stretch of road where I cannot stop.
If none of those things occur, I consider it a minor miracle. If they do occur, however, I don't consider the trip a failure. It is what it is.
Having realistic expectations also affects where I plan to take them and how much I expect to accomplish while there. If we go to a hands-on museum geared to kids, I can expect the place to be noisy; the kids are going to want to see and touch everything. We'll probably be able to stay there for an hour or two before they've exhausted the exhibits and grown tired, hungry, or bored. If, however, I take them to a "real" museum, my expectations drop appropriately.
We recently visited a local museum with a storybook illustrations exhibit. It was lovely and caught the attention of both my little guys, as well as the young teens who were with us. We all enjoyed seeing rich illustrations of familiar stories, and we spent about twenty minutes in that gallery.
In the next room was an exhibit of the museum's permanent collection, much of it landscapes and pastoral scenes with a Rodin bust thrown in for good measure. My expectation going in to that gallery was nil. I scooped up the 4-year-old and quickly looked at each painting with him, pointing to things I knew he'd appreciate. We finished the exhibit in about five minutes, but the older kids lingered. Because they were captivated, I walked the 4-year-old back out into the hallway and played a rhyming game with him.
Recently on Getting Started
Have something to say about this article? Leave your comment via Facebook below!
advertise with us
Example: "Gen 1:1" "John 3" "Moses" "trust"
Advanced Search
Listen to Your Favorite Pastors