Your First Year: Preparing for Takeoff
Melanie Hexter, Homeschool Enrichment
Friday, September 28, 2012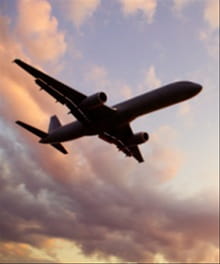 Editor's note: This article was originally published in the Sep/Oct 2012 issue of Home School Enrichment Magazine. Learn more at www.HomeSchoolEnrichment.com
When you board an airplane, the moment of truth comes at takeoff. You've passed through security, stowed your luggage, and buckled your seat belt. Now it's in the hands of the pilot. Taxiing over, the engines roar and the surge down the runway begins. It's both an exhilarating and a slightly scary moment when you leave the ground to fly.
That sense of anticipation is much like what we homeschooling parents feel at the start of a new school year. We have high hopes for our children and our homeschool as summer winds down and day one approaches. The days (months?) of scouring catalogs and websites, reading books, and asking friends for curriculum suggestions are past. The planning and preparation are over, and now it's time to begin the formal learning. And we feel prepared and excited!
But unlike the public schools, and unlike most of our personal experiences (since most of us were public-school educated ourselves), we can begin our formal school year leaning on the Lord. What follows are some ideas for starting the year off well. As a homeschool mom of fourteen years, I suggest you begin with the following.
Bathe your school year—beginning, middle, and end—in prayer. All the planning, all the purchases, all the high expectations will amount to zero "unless the Lord builds the [school]." Things you can specifically talk to God about include:
That He would make your children hungry for Him and hungry for learning.That He would make you sensitive, not just to your children's academic needs, but also to their spiritual, emotional, and physical needs over the course of the year.
Your own willingness to be interrupted. What I mean by that is that I regularly tell Jesus, "I give You permission to interrupt my day." I want to be flexible and loving to meet the needs of those around me, rather than bound to my self-conceived homeschooling schedule. Life's lessons are often greater than academic ones.
Protection from Satan. If it's your first year of homeschooling, you may be surprised when it gets difficult. But when your son becomes uninterested, your daughter gives less than her best, and another child gets sick and can't complete the lesson, remember you have an enemy. Satan—who comes to steal, kill, and destroy—hates your efforts to lead your children to Jesus and His abundant life, so don't be surprised when your homeschool faces attack.
Purpose
You need to know where you are headed if you are going to lead your children's education. This is really a bigger issue than it might appear on the surface. If you just jump into homeschooling without thinking about where you want your children to end up in a year, six years from now, or at graduation, then where are you really leading them?
Does your family have a purpose statement? Does your homeschool have a purpose statement? In light of your purpose, what are your goals for learning? Our family has written a purpose statement which reads, "Live Every Moment In Light Of Eternity." That is our guiding principle, the sieve through which we make our decisions, whether financial, relational, or school-related. That's our overarching purpose. From that starting point, we then make decisions for our homeschool. If an academic purchase, social option, or extracurricular activity doesn't line up with our goals, we say "No, thank you." As a compass gives direction to a hiker, our family's purpose gives direction to our homeschool, pointing us toward our overall goals for our children and their lives.
Recently on Getting Started
Have something to say about this article? Leave your comment via Facebook below!
advertise with us
Example: "Gen 1:1" "John 3" "Moses" "trust"
Advanced Search
Listen to Your Favorite Pastors