Your First Year: Preparing for Takeoff
Melanie Hexter, Homeschool Enrichment
Friday, September 28, 2012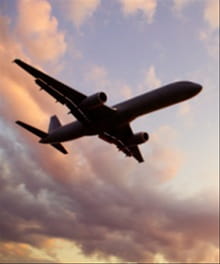 Patience
Realize that your children can't learn it all in the first week or even the first month. Extend lots of grace and patience to your children, who don't have to be the next Einsteins. Curriculums are written with lots of review and repetition built in so students can gradually reach mastery of a concept. In fact, though this is a simplified statement, the entire classical education model is rooted in the premise that concepts should be presented to children three times, in their three stages of mental development, in greater depth with each presentation. Repetition builds mastery and confidence.
Patiently accept that your children will hit learning plateaus. I coined that term after watching my children get stuck in a concept and not be able to move ahead for a period of time. For example, if they can't get all their multiplication tables memorized, it is futile to move ahead in their math book until those concepts are solidified. So I give them all the time and patience they need; we take time off from the textbook to work on those multiplication tables. We do online drills and play math games. I want to give them time to mature mentally before they move on to more difficult math. Several friends have concurred that their children sometimes need time to digest material, whether it's in math, early reading skills, or something farther along in high school. Only time and patience will allow that to happen.
Be patient with your children, especially if their learning styles are different from yours; Cathy Duffy's Top 100 Picks for Homeschool Curriculum includes a primer on how to identify your children's preferred learning styles. Since we tend to teach (and therefore select curriculum) in our own preferred method, we can miss the mark of what best suits our children. When your child hits a learning plateau, assess whether his ongoing need for review and for extra patience from you is due to a poor curriculum match for his needs.
And Mom, please extend patience to yourself! Give yourself patience as you learn how to use a new curriculum, as you establish a new routine, as you learn how to teach a child to read, or as you integrate a new baby, toddler, or grandparent into your homeschool. Each new year, even each new season, is different. Give yourself the grace you need. Ask your spouse to remind you of this and to be your cheerleader when you get discouraged.
Pleasure
Let the pleasure of your first days of school be rooted in your heavenly Father, not in pleasing extended family or homeschooling friends. Their approval may not endure, but Jesus's approval is a strong foundation that won't be shaken. When my homeschool seems to be running smoothly, I want Jesus to get His due credit. I don't want my child's academic success (success with math, high standardized test scores, and the like) to go to my head in pride. I want to find pleasure in my children's personal development and growth as the people God made them to be, not in comparing them with their siblings or my friends' children.
As you begin this school year, find pleasure in making memories with your children! Balance the book-based learning with enjoyable times outside of your home. Make time for fellowship, service, travel, outdoor exploration, field trips, and fun times with your children and other homeschoolers in your area. Find a co-op or support group in your area and get involved, keeping in mind an appropriate balance between being out and being at home.
Practical
Obviously, the beginning of a new year of school includes new books and new routines. In our homeschool, it also includes:
A special breakfast on the first day.
First-day-of-school photos on our front porch. It's fun to look back at those pictures to see how much our children have grown over the years.
A gradual slide into schoolwork after the summer. We might start by doing math each morning in mid-August, then add reading to our days the following week, eventually adding back all the other subjects to our schedule after Labor Day.
Assembling school binders with tabs (such as Bible, Writing, Science, History & Geography, Art & Music, and Miscellaneous) on day one. As we add playbills, photographs, ticket stubs, and other memorabilia from our school year, these serve as each child's portfolio for an entire year's work and keep our homeschool organized.
Meeting with each of my older children (approximately ages 12 and up) to go over what work they will be doing on their own, review their syllabi, establish high school grading contracts, and set goals for the upcoming school year. Unlike a public school teacher or guidance counselor, since I'm a homeschooling mom I'll be readily available to them every day to update these expectations—but I want to begin our year on a positive note. I want this meeting with my older children to be a time of encouragement; I believe in their abilities and know they are able to be responsible for their own learning, but I want them to hear it from me from day one.
As the anticipation for another year of school builds, enjoy the process and enjoy your children. Starting another school year with the Lord is the best place to be.
Melanie Hexter writes and homeschools in central Ohio, where she and her husband serve as joint president of their local support group. They offer a public Home School 101 workshop to families considering home education. Much like the disciples who walked with Jesus, their family wonders where the Lord might be leading them this year. Melanie has written Winning with Literature: U.S. National Parks Unit Study and Bible Storyboard, which she makes available to others at www.LEMILOEpublishing.com.
Publication date: September 28, 2012
Recently on Getting Started
Have something to say about this article? Leave your comment via Facebook below!
advertise with us
Example: "Gen 1:1" "John 3" "Moses" "trust"
Advanced Search
Listen to Your Favorite Pastors