American Sign Language
Renée K. Walker, The Old Schoolhouse Magazine
Wednesday, December 05, 2012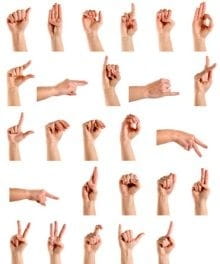 Foreign language credit for high schoolers can be a nightmare for many homeschooling parents and students. Many public and private school students feel they are lucky when their state does not require it for high school graduation. Homeschoolers also often try to avoid it, but many find that colleges will not accept students without it. However, foreign language should not be overlooked as an essential part of a child's curriculum. Like art and music instruction, foreign language study enhances intellectual growth in the student. It can also improve public speaking skills and self-confidence.
Foreign language instruction isn't complicated if you shop around for the best curriculum to suit your needs. The biggest decision you have to make is the first one, though: Which language do you want your students to learn? While there are many, in the homeschool world most choose French, Spanish, German, or Latin. There is another choice that many overlook, but it has a great potential to do good in the community around you.
Why Study American Sign Language?
As the third most-used language in the United States, accepted as a true language by the U.S. Supreme Court in 1989, and acceptable for study in most public and secondary schools for foreign language credit, American Sign Language (ASL) is an excellent choice for study. Some foreign language teachers question the validity of ASL as a true language, but linguistics experts do not question it, because it has its own system of grammar and syntax and is constantly changing as it grows within its culture and community of speakers. ASL is now accepted in most states for foreign language credit for high school graduation, and most colleges recognize it as well. Many colleges are even beginning to offer ASL instruction, with more and more offering interpreting programs in order to help address the certified interpreter shortage across the country.
High schoolers and families learning ASL have the potential of bringing light into a dim world for many Deaf people, especially DeafBlind people. You and your students' lives can be enriched by the love and support of the Deaf community, which is indeed a culture of its own.
The study of ASL cannot be carried out successfully without a study of the culture and its history. Deaf and DeafBlind people are at a disadvantage in the hearing and sighted world. Communication issues prevent full access to many of life's activities that most of society need and enjoy. If more people in the hearing world would take the time to learn ASL, a bridge could be built that would allow three cultural groups to meet, and new and exciting relationships could be developed. A Deaf person could easily ask a salesperson for help in the department store or order a meal at the restaurant or merely chat with a hearing person in the long line at the grocery store. A DeafBlind person could more easily find an assistant to help her write out bills or call a repairman to fix a broken window or simply have a visitor to share the afternoon with, dispelling the boredom for a while. Anything you can do in communicating with the Deaf or DeafBlind will be such a joy to a person who is sidelined from the hearing world due to communication issues.
If you find that you truly love American Sign Language and the Deaf culture, consider becoming a certified interpreter. There is a shortage of interpreters across the country. Trained interpreters are needed to help Deaf and DeafBlind people thoroughly understand what is happening in legal and medical situations. Their health or legal status could be in danger if they do not fully understand what is happening in those situations. Mastery of ASL is also a key to careers in Deaf Education and DeafBlind Studies. Learning ASL has the potential to help in so many ways, and no matter how big or small, the help is so very needed and appreciated.
Have something to say about this article? Leave your comment via Facebook below!
advertise with us
Example: "Gen 1:1" "John 3" "Moses" "trust"
Advanced Search
Listen to Your Favorite Pastors