American Sign Language
Renée K. Walker, The Old Schoolhouse Magazine
Wednesday, December 05, 2012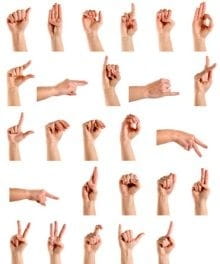 Pidgin Signed English, also known as Contact Language, is another tool that is used to bridge the gap between the hearing and the Deaf. It uses mostly American Sign Language signs, but in English word order. It is similar to ASL in that you don't sign the forms of "be" or every single word.
All of these approaches are ways to communicate with the Deaf and may be beneficial if communication is the motivation or if used as a bridge to teach English skills to the Deaf. However, these approaches are not foreign languages, because they do not have a syntax or grammatical system of their own. They merely represent English words formed with the hands in a visual manner. For this reason, study of these approaches does not qualify for foreign language credit at the high school or college level.
When you choose a curriculum, ASL must be listed as the language of study. A listing of "sign language" is not enough to identify the subject as American Sign Language. Finally, ASL study must include a study of its history and culture of the Deaf community. In no other language have the creation and evolution of a language been so obviously impacted by the history and culture of its speakers as with ASL. Your study will enhance your understanding not only of the language but of the lives of members of the Deaf community as well. Their struggles and progress have united them uniquely as a community.
With all this good information from reputable sources, there are no excuses to not learn American Sign Language, a tremendous skill that can be acquired and enjoyed by you and your students. Do yourself a favor and after checking with your colleges of interest and/or your state requirements regarding foreign language credit, seriously consider American Sign Language for your students' foreign language credit. The choice can bring joy to your family and the life of many Deaf and DeafBlind people.
Copyright, 2011. Used with permission. All rights reserved by author. Originally appeared in The Old Schoolhouse® Magazine, the family education magazine, Winter 2010-11. Read the magazine free at www.TOSMagazine.com or read it on the go and download the free apps at www.TOSApps.com to read the magazine on your mobile devices.
Renée K. Walker is a Christian wife, mother of two sons who were homeschooled, and a certified educator of twenty-eight years. Renée, Principal of Wynfield Christian Academy, has an Ed.S. in curriculum and instruction. She is founder of DeafBlind Hope, a nonprofit organization that helps the DeafBlind learn to live an independent life. Renée, herself, became deaf as a child and has become progressively blind as an adult. Contact Renée at RWalkerWynfieldca.org, or read her blog.
Publication date: December 5, 2012
Have something to say about this article? Leave your comment via Facebook below!
advertise with us
Example: "Gen 1:1" "John 3" "Moses" "trust"
Advanced Search
Listen to Your Favorite Pastors