Building Friendships in High School
Becky Cooke & Diane Kummer, Homeschool Enrichment
Wednesday, December 26, 2012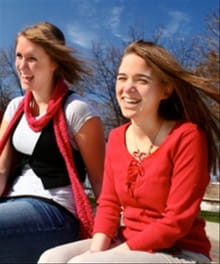 "Will I have any friends if I'm homeschooled during high school?"
Some teens may ask this question to open up a conversation and discuss possible options. Or the question may be one that's packed with desperation and an emphasis on the word "any"!
Regardless of where your homeschooled teens land on the spectrum of how they view friendships during the high school years, it's an area you'll want to think through and chat about with them.
The Importance of Friends
God designed all of us to be relational even as He is. John Donne was right when he reminded us that no man is an island. We need each other. A friend can be a source of encouragement, a provider of practical help, a wellspring of laughter, a companion who gently corrects, or someone who chases away loneliness. Your homeschooled teens will benefit from friendships—but where will they find them, how should they choose them, and why will they need your assistance?
Looking for Friends in All the Right Places
Help your teens enlarge their scope of where friends can be found. Teens may think that a school classroom is their main friendship pool. However, spending the entire day in a classroom of peers may actually limit possible friends. One of the benefits of homeschooling we experienced was that our children developed a cross-generational view of friendships regardless of age differences and without the stigma often associated with being friends to those younger or older.
As a homeschooler, your teen has the time and flexibility to develop friendships with a wide variety of people. At church, in your neighborhood, or while volunteering or job shadowing, teens can meet and learn from people of all ages, backgrounds, and skills. Is there an elderly neighbor who would enjoy a teen's company and, in turn, relate important life lessons? Your teen may receive what this person has to say more easily than when it comes from you. Is there a professional in a career who could come alongside your teen and help to prepare him for the next step after high school graduation? Mentoring is a precious gift (and you may be able to offer it to someone else's teen as well). Is there a godly single woman who would love to mentor your teen daughter and add her voice to the guidance you are hoping to instill? Is there a ministry team at church that could be a place for your teen to widen the friendship net and be encouraged to serve others? All of these examples are opportunities to establish relationships with those in different seasons of life.
These friendships don't need to end after graduation from high school. They may also benefit your teens in the future by supplying a reference for a job or being prayer partners as they step into a new season of life. These people may be available to give a bit of advice to a young adult who needs help sorting out life's difficult decisions.
Choosing Friends Using Wisdom
While purposefully broadening sources for friends for your teens, don't completely ignore the importance of cultivating some peer relationships. Homeschooled teens can usually connect with other students through homeschool co-ops, church, outside classes, sports teams, music groups, or clubs. Remind them of the good qualities to look for in a friend when making their choices. The Bible has much to say about friends, especially the book of Proverbs. You may enjoy joining your teen in a word study to discover the guidelines to be used for choosing friends. Then look for opportunities for your teens and their friends to spur each other on in godly wisdom.
What about current or potential friends who may need work in some areas? Our initial instinct is often to advise our teens to avoid such persons—and that direction is certainly warranted in some cases. But don't make perfection the standard. Yes, we need to have standards, and your teens need to exercise discernment on their own (or risk parents exercising it for them!). But take a moment to give a fair evaluation. And fair means fair—not too perfectionistic, but also not too lax.
Have something to say about this article? Leave your comment via Facebook below!
advertise with us
Example: "Gen 1:1" "John 3" "Moses" "trust"
Advanced Search
Listen to Your Favorite Pastors