College Tours: When Seeing Is Believing
Kim Lundberg, Home School Enrichment
Friday, February 03, 2012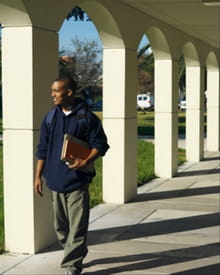 Today's technology allows high school students to investigate colleges without ever leaving the comfort of home. With the mere click of a mouse, homeschoolers can learn which schools offer majors in both marine biology and piano performance, which schools sponsor study-abroad programs that cater to political science interests, which schools give large merit scholarships and generous need grants to their students, and which schools have strong, competitive sports programs. Teens can even take an online tour of the campus itself.
However, a virtual tour, though immensely helpful, is not an actual tour, and there is nothing like seeing something in person to understand fully what it will mean to you personally. Pictures of a gorgeous New England campus in October don't feel much like walking to classes on that same campus when the January snows are knee-deep, and no photo, however appealing, can tell your student for certain that this is the place he or she should study for the next four years. One thing that can help students know their minds when it comes to this important, life-changing choice is visiting the colleges in person and experiencing them firsthand.
The thought of planning, financing, and then actually going on a college tour can be daunting. Which particular schools will you visit and in what order? Will you fly and then rent a car, or just drive the whole way? How much do you have to arrange ahead of time, and how much can you do on an as-you-go basis? Should you take the entire family, or should it be just one parent and the prospective student? So many other questions arise, but mostly, the thought comes: Is this really necessary? Will the effort and expense be well-spent in the end?
After all, traveling for seven to twelve days on an extended trip with your teen (or on several weekend trips spread throughout the year) is bound to be challenging in several ways. Is such an excursion really a wise move? What benefits can your high school student gain through actually seeing the schools he or she is considering attending? Can't your students learn everything they need to know before making the college decision through Web sites, books, and advice from well-meaning family and friends?
The honest answer to that last question is "no." Web sites only tell part of the story, and a biased one at that; books can be out-of-date, often contain propaganda, or simply leave many unanswered questions; people, of course, have different ways of determining their priorities and frequently base their opinions on hearsay passed on from a friend's brother's cousin's niece.
So . . . if your son or daughter is serious about pursuing higher education through a traditional college education, visiting the schools in question is a sensible idea. Colleges vary significantly, and high school students (and their parents) cannot comprehend some of these differences without seeing, hearing, and experiencing them for themselves. Both positive and negative views initially held about certain aspects of a school may, in fact, be completely overturned when a real visit takes place. Things that may have been true about a college twenty years ago, ten years ago, or even two years ago may be very untrue now. Changes happen constantly. In reality, nothing can take the place of a college tour. As you make plans to head out on such a trip with your own teen, here are some important factors to keep in mind.
Scheduling
When it comes to a college tour, the most important thing a homeschool family needs to remember is to plan well ahead of the actual event. You'll need to arrange things on the home front, of course, perhaps taking some time off from work, asking a sister-in-law to help with babysitting, or arranging makeup times for music lessons. In other words, everyone's schedule must be considered, not just the prospective college student's.
Have something to say about this article? Leave your comment via Facebook below!
advertise with us
Example: "Gen 1:1" "John 3" "Moses" "trust"
Advanced Search
Listen to Your Favorite Pastors