College Tours: When Seeing Is Believing
Kim Lundberg, Home School Enrichment
Friday, February 03, 2012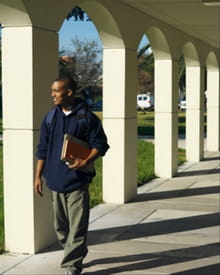 Most young people find taking college tours in the fall of their senior year to be the best timing. They are able to see what the schools are like before the application deadlines come due. If auditions or interviews are required, there is not really a choice in the timing; they must be done during the senior year, often during the spring. Some students prefer seeing schools earlier, in their junior or even sophomore year, while others are not yet ready to think seriously about college at that point. If you go too early, you might end up having to take another trip in the senior year to see schools the student hadn't even heard of a year or two previously.
Deciding which schools will actually be visited entails figuring out which schools are on the student's "definitely interested" list and where these schools are located in relation to each other. If two schools are close together (an hour's drive at most), it may be possible logistically to visit both of them in one day, but this option can only work if the timing of the details is precisely orchestrated. In addition, since last-minute adjustments by the schools are always a possibility, it is difficult to plan your trip so exactly.
A better idea is to plan on doing one school each day. A slower, more relaxed approach will enable teens to explore the different campuses fully. This way they can meet with professors and/or students from an area of specific interest at the school, they can attend a symphony rehearsal, they can enjoy the café, and they can check out the gym. Don't underestimate the importance of simply soaking in the atmosphere. Your high school students need to gain a real feel for these schools. Can they picture themselves studying in the library, walking the halls, playing Frisbee on the lawn? Do they think they would be comfortable and yet challenged to grow in such a school? These kinds of things are hard to determine in just two or three hours, so a full day is best.
The next step is planning the route—something that should be done carefully by the driver in conjunction with the student. (Hopefully, the student will help with the driving so the parent can sit back and enjoy the view occasionally!) Families will need to keep in mind that certain events at certain schools, such as required interviews or music auditions, must be done on certain days (only Tuesdays or Thursdays, or even on just one specific Tuesday in November!) or perhaps at a specific time of day—say, only at 11 a.m. or 1 p.m. Fortunately, most schools are somewhat flexible and provide a variety of options, so planning isn't usually too difficult. Web sites can be helpful, but most likely, in the end phone calls will need to be made.
An important point to remember: colleges much prefer (and have come to expect) that the student be the one to contact them by phone or e-mail to arrange the tours, interviews, auditions, classes, and other details of the visit. Some schools, in fact, refuse to deal with parents as they feel it is the student's future being planned, and they want to be sure the student is independent, mature, and confident enough to handle such basic yet important matters himself. Students need to write out everything they want to cover during phone conversations, with all of the appropriate dates and times listed, and all of the questions they want to ask clearly prepared, leaving nothing to memory or chance.
Getting There
If you're traveling to schools across the country, you have a couple of options. You can fly to a central location in relation to the schools you are visiting and then rent a car and drive a circular route, ending up back at the airport. Or you can drive all the way from home, visit all the schools on your student's list, and then drive back home again. Depending on current air fares and gas prices, the driving choice may very well be cheaper, and it also gives you more room for luggage and food. Driving can take more time, but this is not necessarily true, depending on the distance involved and the weather. Parking at most schools is relatively painless, and almost all of them have visitor parking available for free or discounted rates.
Have something to say about this article? Leave your comment via Facebook below!
advertise with us
Example: "Gen 1:1" "John 3" "Moses" "trust"
Advanced Search
Listen to Your Favorite Pastors