College Tours: When Seeing Is Believing
Kim Lundberg, Home School Enrichment
Friday, February 03, 2012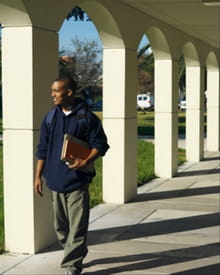 Weather
Driving through a bad winter blizzard can be time-consuming and dangerous; on the other hand, storm conditions can delay or cancel flights as well. It is best to plan your visits for fall or spring, but plan for the unexpected. Bring a couple of umbrellas and jackets even if it's warm, and if it's cold, bring lighter clothing in case it heats up suddenly.
Ask students what the weather is like year-round. If the school has freezing, snowy winters, find out what everyone does during those months for indoor activities and discover what kinds of outdoor excursions are planned. It's vital for students not to underestimate the effect that weather can have on them. Many people need a certain level of sunlight or they become genuinely depressed, while others will grow extremely frustrated without four distinct seasons, including lots of snow.
Official Tours
Most schools offer regular, student-led tours—usually a couple in the morning and a couple in the afternoon. However, you can't just drop in and expect to join the crowd. While that might be possible, some colleges require you to register ahead of time for the tours, and almost all of them take various days off of their normal schedules due to holidays, final exams week, etc. Students should check out specific tour times several weeks in advance if possible. If travel difficulties occur, you can call again to rearrange things.
Prospective student tours can be very informative, especially if you are in a smaller group where students are free to ask questions pertaining to personal interests. Always ask the tour guides about their own majors and any special opportunities the college has provided for them (internships, research, etc). It's interesting to learn where else the guides applied to college and why they ended up choosing this particular school. Although the official tour spiel is usually interesting and amusing, it's the answers to the personal questions that will be truly enlightening.
Info Sessions
Many colleges offer what they call "info sessions" to prospective students and their parents. These meetings can be 15 minutes to an hour long, and there are usually several held daily, often just before or after a tour. Generally, a representative from the Admissions Office will give a basic informational lecture that will include an overview of the admission process and will explain what kind of application the students are expected to present in relation to testing, grades, extracurricular activities, essays, etc. In addition, the representative will summarize what the college is all about—the school's history, purpose, and goals—and what the college believes it can offer students that other schools cannot.
This is when students will hear about various specialized programs the school offers, such as botanical gardens, traveling music ensembles, archaeological digs, research opportunities with professors, internships, a nursing study-abroad project in Africa, and more. Although these programs may be mentioned briefly in the school's viewbook or on the college's Web site, the student now has the opportunity to hear in depth about such opportunities. After the presentation, the school representative will take time to answer any personal questions the students or parents might have.
Part Two of this article, coming in the next issue, will cover other aspects of colleges that your teens should investigate or experience for themselves, including dorm living, social activities, classes, transportation, campus safety, interviews, auditions, and last but definitely not least, the food angle. Meanwhile, remember: the most important factor to ensure a successful college tour is planning ahead carefully so that your trip can be a relaxing, informative, bonding time for you and your homeschooled student.
---
Get a FREE subscription to the digital edition of Home School Enrichment Magazine! Sign up today for immediate access to the latest issue! Visit www.HSEmagazine.com/digital
Kim Lundberg and her family have been homeschooling in an interest-led, relaxed way for over 18 years. Mom to 10 children, Kim enjoys studying and discussing history, reading mysteries, baking, learning new things, and traveling.
This article was originally published in the Jul/Aug '09 issue of Home School Enrichment Magazine. Visit www.HomeSchoolEnrichment.com for more information.
Have something to say about this article? Leave your comment via Facebook below!
advertise with us
Example: "Gen 1:1" "John 3" "Moses" "trust"
Advanced Search
Listen to Your Favorite Pastors