College Writing Success 101
Allison Haupert, The Old Schoolhouse Magazine
Thursday, December 01, 2011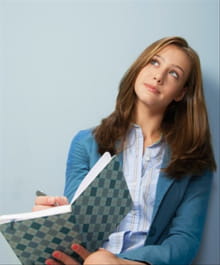 Holmes' purposes of writing echo the larger purpose in everything the Christian does: to know God and make Him known. Holmes recognizes this truth in the conclusion of his essay mentioned earlier: "The human vocation is far larger than the scope of any job a person may hold because we are human persons created in God's image, to honor and serve God and men in all we do, not just in the way we earn a living" (384).
In a sense, Christians are forever students, ever learning to become more like the Lord. An education that prepares a person for living, not simply for a vocation, should be the goal of any academic pursuit, including writing.
Allison Haupert holds a master's degree in rhetoric and composition and teaches writing in the online learning program at Bryan College. She and her husband, Tommy, homeschool their kindergarten daughter and corral their 2-year-old son in Chattanooga, Tennessee. For more information about the Bryan College online learning program, visit www.bryan.edu/online.
Endnotes:
1. Holmes, Arthur F. "The Liberal Arts." In the World. Eds. John H. Timmerman and Donald R. Hettinga. Grand Rapids: Baker Academic, 2004. 383–400. Print.
2. "1 Peter 3:15." Bible Gateway. Web (www.BibleGateway.com). 3 June 2011.
3. Bortins, Leigh. The Core. New York: Palgrave Macmillan, 2010. Print.
Other Practical Matters
A homeschooled student can be overwhelmed when she takes her first college course, whether it's on campus or online. Consider the following practical matters:
Schedules.Schedules and syllabi for college courses can be very different than those that home-educated students are accustomed to, and the sheer amount of written work in the form of longer projects can be overwhelming. One student told me: "A homeschool student would have a set amount for each day. College gives assignments mostly over the week, and you have to have self-discipline to get it all done in time.
Self-discipline coupled with respectful assertion will take your college writer a long way. A student should be able to organize the week's work, prioritize by deadline and importance, and also confidently and humbly approach the instructor with any questions or concerns. These may seem to be obvious skills, but surprisingly most students struggle with time management and organization.
In The Writing Life Annie Dillard wrote a poignant passage about schedules: "How we spend our days is, of course, how we spend our lives. What we do with this hour, and that one, is what we are doing. A schedule defends from chaos and whim. It is a net for catching days" (32).
Workload. Most college writing is essay driven, meaning the majority of assignments are in the form of written essays. As early as possible, homeschool students should practice writing longer bodies of work, applying the principles of the rhetorical triangle, because it addresses each part of a piece of writing: audience, message, and rhetor (or speaker). A quick Google search can provide multitudes of resources about the rhetorical triangle.
Keyboarding. Organization is enhanced by good keyboarding skills and good word-processing knowledge and skills. Keyboarding software and programs abound, and one would be wise to invest both time and resources in this training, particularly if the student will be taking online coursework in which all work is produced and submitted in a digital environment.
Expectations. In college, students have multiple teachers who will have multiple sets of expectations (not to mention "pet peeves"). This is where an understanding of the rhetorical concept of "audience" would come in handy for the college student. While a teacher may assign a particular "audience" in a writing assignment, underlying every assignment are the teacher's own goals and expectations for the work.
Have something to say about this article? Leave your comment via Facebook below!
advertise with us
Example: "Gen 1:1" "John 3" "Moses" "trust"
Advanced Search
Listen to Your Favorite Pastors