Developing Skills & Character Through Homeschool Speech & Debate
Andrew Pudewa, Institute for Excellence in Writing
Wednesday, October 10, 2012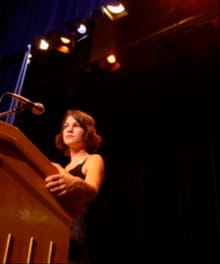 Editor's Note: This article originally appeared in the January 2012 issue of The Old Schoolhouse® Magazine, the trade magazine for homeschool families. Read the magazine free at www.TOSMagazine.com or read it on the go and download the free apps at www.TOSApps.com to read the magazine on your mobile devices.
Welcome to my column: Finishing the Race! It's such an appropriate title for me, as I myself need encouragement to persist in doing good and to persevere to the end. While five of our seven children are now in college, grown, or married, we still have two at home, aged 11 and 14. Often the time seems frighteningly short ("Our youngest will be 18 in seven years! What will we do then?"); at other times it seems like a long stretch still ahead. And there's always the likely prospect of grandchildren living nearby (I'm still having a hard time wrapping the word Grandpa around my youthful self!). So as I pray and seek to provide a modicum of insight and encouragement to all TOS readers, you can be sure I'm in the same place, having similar challenges and doubts, joys and goals, as my wife and I seek to finish our race.
Over the coming months I plan to address a range of topics, including how to nurture a scholar, dealing with dyslexia, keys to great teaching, entrepreneurship, college prep and college options, and even a bit on high school writing! As we travel this contemplative path together, I most certainly welcome your suggestions, questions, and challenges. But this month, as it is the beginning of the competitive speech and debate season for us, I'd like to discuss the value of a formal public speaking program, as well as the truly remarkable culture of homeschool forensics.
Eight years ago, while we were living in California, my daughter number three was 16 and coming into her home stretch. As she had become so proficient at arguing during her childhood, I thought she might do well in a formal setting, where argumentation was more structured and polite. Having met many homeschool debaters in my travels to conventions and seminars, I was always impressed with their poise and confident articulation and really felt called to provide that opportunity for my daughter in the short time remaining. Unfortunately, the closest homeschool debate club was ninety miles away, and her participation in that club was just not practical for us at that time. However, I was unwilling to give up the idea entirely, and so with another homeschool parent who was equally enthusiastic about the idea of debate for her two eldest, we started a club in our local area.
Of course, we had almost no clue what we were doing. We ordered up some books from the HSLDA on how to teach and coach debate, got our little group of four teenagers together, and started from the very beginning, learning the basics of debate format, collecting evidence, and building cases. The learning curve was steep. Fortunately, we were able to gain encouragement and guidance by phone from one of the finest homeschool debate coaches in California, and somehow, by January the four kids were ready enough to venture out to their first tournament in San Diego.
If you have never been to a homeschool debate tournament before, I will tell you point-blank you are missing one of the greatest, most inspiring, truly awesome things happening on the planet. Imagine a hundred or more students aged 12 through 18, professionally dressed, profoundly excited about standing in front of peers and judges, arguing for changes in medical malpractice law in an articulate and knowledgeable way, while practicing in between debate rounds their persuasive or dramatic speeches for I.E. (Individual Events) competition. Now, I must confess I am somewhat of a pessimist by nature and often find the world situation somewhat bleak, but going to that first debate tournament actually gave me hope for our nation in a way I had never before experienced. I saw and heard these young Christian men and women preparing themselves with the writing, speaking, teamwork, and leadership skills so desperately needed in our world today—they were in many ways demonstrating the best of the homeschool world as I knew it. I was profoundly inspired.
Have something to say about this article? Leave your comment via Facebook below!
advertise with us
Example: "Gen 1:1" "John 3" "Moses" "trust"
Advanced Search
Listen to Your Favorite Pastors