"Don't Drop That Baton!"
Denise Mira
Wednesday, April 24, 2013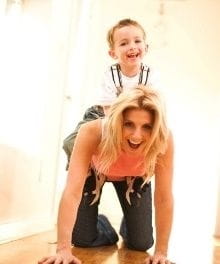 It begins with us. The good news is that we're the models! Wow! Such power in our very own hands to impact the next generation. The bad news is that we're...the...models. Sigh. Such huge responsibility before God to make right choices for the sake of our children.
A young boy was sitting, crying, in the back seat of the family car on the drive home from church one morning. His parents, quite alarmed, questioned him: "What's wrong, Johnny?! Something happen in Sunday School?"
Johnny blubbered, "Well, [sniff, sniff] my teacher said [whimper] we oughta be raised in a Christian home, but [bahhhah]...I wanna live with you guys!" We're all human and it's easy to relate to this humorous tale, but Dad, Mom, despite your fallibility, can you honestly echo Paul's plea: "Follow my example, as I follow the example of Christ" (1 Corinthians 11:1, NIV)?
It's my conviction that we pass on to our children far more than our physical DNA. Our sons and daughters will reflect what we are. We establish the standard and cast the mold, and that's serious stuff. We can preach it down, but if we aren't living it, kids know it. You can't get anything past them.6
So...what are you? I'm not asking if you're a church member, a homeschool leader, how much money you give, or what good works you're involved in. What we are and what we do can be two very different things.
Are we simply religious followers in systems, attending to those duties prescribed by our church denominations and traditions of men, or are we decidedly surrendered disciples of Christ, recognizing that "...he died for all, that those who live should no longer live for themselves but for him who died for them..." (2 Corinthians 5:15, NIV)?
As Christian homeschooling parents, we are far more than educators equipping our students for a future vocation; we are the primary ministers of the Gospel of Jesus Christ to our impressionable youngsters. Sobering.
If we believe Jesus' statement that "a student is not above his teacher, but everyone who is fully trained will be like his teacher" (Luke 6:40, NIV), our mission is paramount. We can't deny that our toughest job is to first lead ourselves strongly, baton firmly in hand. Let's be done with lesser things and "...run in such a way as to get the prize" (1 Corinthians 9:24)!
Rise up, O men of God!
Have done with lesser things.
Give heart and mind and soul and strength
To serve the King of kings.7
Endnotes:
1. www.barna.org/teens-next-gen-articles/534-five-myths-about-young-adult-church-dropouts.
2. www.boston.com, "Nine Charged in Death of South Hadley Teen, Who Took Life After Bullying" by Brian Ballou and John Ellement, The Boston Globe, March 29, 2010.
3. www.chron.com, "Two 10-Year-Olds Charged in Boy's Sex Assault on Bus" by Ericka Mellon, Houston Chronicle, January 6, 2012.
4. www.sacbee.com, "Sacramento-Area Churches Add Extra Round of Entertainment to Sunday's Easter Basket," The Sacramento Bee, March 30, 2010.
5. Denise Mira, No Ordinary Child: Unlocking the Leader Within Your Child, (2008 Impact Media) p. 8.
6. Ibid.
7. William P. Merrill, The Continent 1911, (www.cyberhymnal.org/htm/r/i/riseupom.htm).
Denise Mira, author of No Ordinary Child: Unlocking the Leader Within Your Child, has been married to Gregory for thirty-one years. They are the parents of five sons. Denise has traveled extensively, both nationally and internationally, inspiring change as she shares the message God has given her for families. She would love to have you visit her blog, and she can be reached at contact@denisemira.com. Find her on Facebook and follow her on Twitter!
Copyright 2012, used with permission. All rights reserved by author. Originally appeared in the April 2012 issue of The Old Schoolhouse® Magazine, the family education magazine. Read the magazine free at www.TOSMagazine.com or read it on the go and download the free apps at www.TOSApps.com to read the magazine on your mobile devices.
Publication date: April 24, 2013
Have something to say about this article? Leave your comment via Facebook below!
advertise with us
Example: "Gen 1:1" "John 3" "Moses" "trust"
Advanced Search
Listen to Your Favorite Pastors