Dual-Credit Programs Offer Great Opportunities for Homeschoolers
Gail Kappenman
Friday, July 13, 2012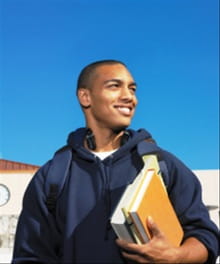 • Are homeschoolers allowed to participate in the dual classes? (Most schools will welcome homeschoolers, although you may have to provide proof of conformity to your state's homeschooling laws.)
• Can you tour the classrooms, work areas, and labs? (On our tour, we were able to visit many of the different class areas, including car repair, cabinetry, cosmetology, child development, horticulture, and animal science—including the barn and the animals!)
• Are there any specific vaccines or medical requirements? (Vaccinations may be required for working with day-care children or for pre-nursing classes.)
• What type of field trips should be expected? (Some classes may involve state competitions, which require travel and overnight arrangements.)
• Are parents or older siblings allowed to be chaperones on field trips? (If the answer is yes, you might consider volunteering to be a chaperone or sending an older sibling with the class, just for peace of mind.)
• What type of extracurricular work is required (if any) outside the classroom? (Our daughter's Animal Science class required students to log forty-five non-classroom work hours for the semester, either paid or volunteer. Many of the other classes had no such requirements.)
• What is the typical size of a class? (In our area, the career center classes have ten to thirty students per class, which can be appealing to homeschoolers who might be overwhelmed by a college class with an enrollment of two hundred students.)
• What types of testing assessment (if any) will be used?
If testing assessments are used, ask the following questions as well:
When will the test be administered?
What effect will test results have on the class as a whole?
We found the final set of questions to be the most important. For example, South Carolina state regulations state that dual-credit students cannot be in the same class with high school credit-only students. Mixed classes will not qualify to receive dual credit; students will receive the high school credits only, even though some of the students may qualify for both.
In our county, high school career centers offer the dual classes, and the local college gives the students ASSET tests in math, reading, and writing. Students who receive passing ASSET scores are placed in dual-credit classes. Students who do not achieve passing scores are placed in high school credit-only classes. This system works well when there are two classes, two class times, or two teachers. If there is only one teacher or one class time and the class contains students who passed the ASSET test as well as students who did not, the combination violates the guidelines, automatically making the class a high school credit-only class. This situation would be very disappointing to the homeschooler. That is why those last three questions are so important. Make sure you ask how the placement test scores will affect the class and its ability to receive dual credit. If there's a chance your child's class might not receive credit because of odd testing guidelines, ask to see what other classes are available.
We had our first experience with dual-credit classes last year, and we learned a lot about their advantages. I was shocked to learn that so many parents have never even heard of this option, yet their tax dollars are funding it! Dual-credit classes provide an incredible opportunity for homeschoolers to save money, get credits, and familiarize themselves with college-level classes. I hope you check into the programs that are available near you—and make sure you are prepared to ask the important questions. The more informed you are, the better the experience your student will have using dual-credit classes.
Examples of State-Accepted Tests
Central New Mexico: ACT, SAT, Accuplacer
Texas: TAAS, TAKS, PSAT/NMSQT, PLAN
Indiana: ACT, SAT
Missouri: ASSET, ACT, MAP
South Carolina: COMPASS, ASSET
Georgia: COMPASS, ASSET
Michigan: ACT Plan, PSAT, Michigan Merit Exam
Washington: SAT Reasoning Test, ACT with Writing
Virginia: COMPASS
Florida: SAT/SATI, ACT, CPT
Gail Kappenman has been homeschooling since 1991. She is the owner of Kap & Pen Publications, located in Simpsonville, South Carolina. She enjoys reading, writing, editing, gardening, and homeschooling. Visit www.kapandpen.com, where you can find Bible journals, planners, unit studies, and more!
Publication date: July 13, 2012
Have something to say about this article? Leave your comment via Facebook below!
advertise with us
Example: "Gen 1:1" "John 3" "Moses" "trust"
Advanced Search
Listen to Your Favorite Pastors