Dual Enrollment Courses: Is Your Teen Ready?
Becky Cooke & Diane Kummer, Homeschool Enrichment
Friday, September 02, 2011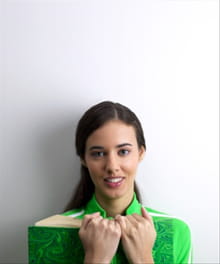 Everyone loves a two-for-one deal. Savvy shoppers hone in on these like lasers, happy to stretch their budget dollars. For the homeschooled teen, enrolling in dual enrollment courses is similar to a two-for-one bonanza.
Dual enrollmentis the term to describe college courses taken by students while in high school. The course counts for both high school and college credit. One course is taken, one fee is paid, one curriculum is purchased, but the course shows up on both high school and college transcripts. It almost sounds too good to be true!
Many homeschooled teens are capable of doing well in college-level courses, but are dual enrollment courses for everyone? Before choosing such courses for your teens, assess their academic preparation and their physiological and emotional maturity.
Academic Preparation
To succeed in a college-level course, a student must have excellent reading and writing skills. If your teen has trouble putting his thoughts to paper or struggles with reading comprehension, it's best to delay enrolling in college courses until these skills are further developed.
College catalogs list, in detail, the prerequisites that must be completed before enrolling in a particular course. Pay close attention—these prerequisites are meant to determine if your teen has the necessary foundation and background knowledge prior to taking the course.
Some colleges may require your teen to take an English or math placement test prior to enrolling in a course. View the results of the test as another indicator of your child's readiness to do well in this level of course.
If your teen has already taken either of the college entrance tests—the SAT or ACT—a college may use these scores as an alternative to a placement test for enrollment purposes.
Maturity
There is more to taking a college course than academics. Class time involves discussion and interaction with the teacher and other students, the majority of whom will be over 18. It may also be necessary for your teen to communicate and meet with the teacher both in class and during office hours. Your teen cannot rely on you to contact the teacher for her. Is your teen ready for these types of interactions?
Group projects are a favorite teaching approach for most professors, so there is a good chance your teen will be involved in these. They provide experience in working with others and coming to agreement over different viewpoints. Group assignments are also a picture of life situations, including jobs, where some of the group carries a greater burden while others are along for a free ride. Learning to react appropriately to frustrations with other students is part of the maturing process.
Does your teen know how to take notes? Most college professors lecture, so they expect students to have this skill. Your teen will also need to be organized—both inside and outside of class—in a manner that allows him to devote time to readiness for class discussions, paper writing, and test taking. As a general rule, the amount of time spent studying outside of a college course is twice the amount of hours spent in the class. Your teen's academic schedule should take this into account.
Is your teen self-motivated and willing to take full responsibility for completing assignments, or does he need someone prodding him to complete his work? You can bet that college professors will not check up on and encourage your teen to complete his assignments (and neither should you). He is on his own! Remember that the grades earned will become part of his permanent academic records.
Sources for Courses
Community College
Local community colleges are convenient locations for dual enrollment opportunities. When enrolling, be sure to check the level of the course. Many community colleges offer remedial courses that do not earn college credit and therefore will not fulfill dual enrollment requirements.
Have something to say about this article? Leave your comment via Facebook below!
advertise with us
Example: "Gen 1:1" "John 3" "Moses" "trust"
Advanced Search
Listen to Your Favorite Pastors