Eight Common Myths About Homeschooling in High School
Amelia Harper, The Old Schoolhouse® Magazine
Thursday, November 10, 2011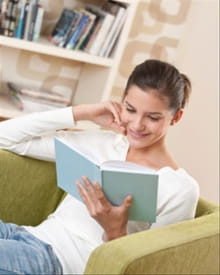 Myth #5: Homeschooling in high school will rob my teen of milestones such as attending the prom or graduation exercises.
Some families like the idea of "proms" despite their association with drinking and immorality. In reality, most kids really just want a rite-of-passage social event that allows them to dress up, feel special, and act as an adult. Many state homeschool groups now provide a dance or cotillion as part of homeschool conferences. You may want to check into those in your area. Or, as an alternative to dancing, you can hold a formal banquet for junior and senior homeschooled teens in your area. Hire musicians for the event, or even have entertainment provided by others in the homeschool community. This would be a great event for a local homeschool group or church to host in order to honor upper-level homeschool students.
Many state homeschool organizations also provide very nice graduation ceremonies, and it may be well worth the time and expense to travel to these in order to mark this special occasion. Two of my sons participated in these events, and we were left with great memories to treasure. However, my favorite graduation ceremony was actually the one with my oldest son. We had a local ceremony at our church for five homeschooled seniors. We invited a special speaker, had special music, and set up a table on which each teen displayed a "mini-yearbook" with pictures from his high school years. This seemed to make the focus more personal than the larger event.
Myth #6: My teen cannot play sports if we homeschool in high school.
Actually, many teen athletes choose homeschooling because it allows them more time to focus on practice for individual sports. Olympic medalist Michele Kwan10 and tennis superstars Vanessa and Serena Williams11 are examples of athletes who were homeschooled during their teen years.
However, even those who participate in organized team sports are gaining tremendous ground. Years ago, homeschooled students such as NFL defensive MVP Jason Taylor faced discrimination from organizations such as the NCAA,12who treated homeschooled students as dropouts. However, the controversy over his situation opened the door for the NCAA to recognize the legitimacy of homeschooled athletes, and by 2004, the NCAA was allowing 75–100 homeschooled students a year to receive college athletic scholarships. In that year, the NCAA streamlined the application process for homeschoolers, making it even easier to apply.13
There are several options for team play. Many areas now have homeschool leagues that compete with homeschool, private school, and in some states, public school teams. Some private and Christian schools allow homeschooled students to play if they take a limited number of courses at the school. In addition, there is a growing movement to allow homeschooled students to compete for slots on public school teams.14 Rules vary from state to state, so it is a good idea to check the options in your own area.
However, it is not a good idea to base educational decisions solely on sports participation. As Christopher Klicka, Senior Counsel for the Home School Legal Defense Fund, warned: "The goal of the homeschooled student should be to obtain a solid college education, not to become a pro athlete. A quick look at the statistics is sobering. There are nearly 1 million high school football players and about 500,000 high school basketball players. Of those numbers, approximately 150 make it to the NFL and only about 50 make it to an NBA team. The odds of a high school basketball player playing in the pros are 10,000 to 1."15
Myth #7: Sending my teen to public high school is a missionary effort because he can win others to Christ.
This sounds like a noble goal. In the Scriptures, Daniel and his friends were placed in similar circumstances and impacted a nation for the one true God. Perhaps there are some teens who can withstand peer pressures and be an active witness. Forty years ago, my husband was won to Christ by a fellow student in a public school setting. So what is the problem?
Have something to say about this article? Leave your comment via Facebook below!
advertise with us
Example: "Gen 1:1" "John 3" "Moses" "trust"
Advanced Search
Listen to Your Favorite Pastors