Eight Common Myths About Homeschooling in High School
Amelia Harper, The Old Schoolhouse® Magazine
Thursday, November 10, 2011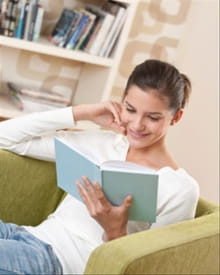 The problem is that the situation in public schools now makes the odds of such a missionary effort slim at best. Michael Haverluck's article in CBN News highlights some startling statistics: "A nationwide survey conducted by The Barna Group shows that 80 percent of Christian families send their children to public schools where their faith is attacked. Based on the study's findings, it appears that their kids are the ones being 'evangelized' by the religion of secular humanism. More than half of their Christian teens believe Jesus actually sinned and only nine percent hold to moral absolutes, while 83 percent of children from committed Christian families attending public schools adopt a Marxist-Socialist worldview, reports the group."16 Are you willing to risk those oddswith your child?
Myth #8: Most people send their teens to traditional schools for high school.
Sometimes it seems that homeschool parents in a certain area get on a bandwagon and decide to place their kids in traditional schools. It may seem that you are all alone in your decision to homeschool in high school. However, the evidence is to the contrary. According to data released by the Digest of Education Statistics in 2010, there were roughly 422,000 homeschooled high school students in the United States of America in 2007. This figure represents 2.8% of the total high school student population in that year and compares with a 3.0% homeschooling rate for elementary school aged children. It is clear from these figures that the majority of homeschooling families continue to homeschool in the high school years.17
Conclusion
This important decision—whether or not to homeschool through high school—is an individual choice, and the answer may not be the same for all students. It is a decision that needs to be prayerfully considered after weighing all the facts.
Years ago, one of my sons scored extremely high on the ACT while only in seventh grade. As a result, I was inundated with pamphlets from prestigious boarding schools that were asking that we allow him to apply for scholarships to attend these exclusive high schools. As I looked at the photos of senators' sons playing polo, debating one another in designer suits, and dissecting cadavers, I wondered if I was doing right by my child by denying him such an opportunity for advancement.
However, after prayerfully considering the kind of pressures he would face, and the kind of man he was likely to become if he took that educational path, we chose to homeschool instead. He just graduated from college with a 4.0 average in international business, is attending seminary, and is considering a career as a tent-maker missionary on a foreign field. Perhaps homeschooling in high school was the best choice after all.
Amelia Harper is a homeschooling mother of five and a pastor's wife. She is also the author of Literary Lessons from the Lord of the Rings,a complete one-year literature curriculum designed for secondary-level homeschooled students. In addition, she is an English tutor and a freelance writer who contributes regularly to newspapers and magazines. For more information, go to www.homescholarbooks.com.
Endnotes:
1. www.homeschooling-family.com/statistics-on-homeschooling.html
2. www.cbn.com/CBNnews/144135.aspx
3. answers.yourdictionary.com/answers/jobs-education/academic-statistics-homeschooling.html
4. www.homeschooling-family.com/statistics-on-homeschooling.html
5. answers.yourdictionary.com/answers/jobs-education/academic-statistics-homeschooling.html
6. www.homeschooling-family.com/statistics-on-homeschooling.html
7. www.cbn.com/CBNnews/144135.aspx
8. www.homeschooling-family.com/statistics-on-homeschooling.html
9. www.singaporeschooljobs.com/homeschooling-statistics
10. www.michellewingkwan.com/pages/biography.htm
11. www.williamssisters.org/index.php?option=com_content&view=article&id=47&Itemid=55
12. www.tulsaworld.com/sportsextra/article.aspx?subjectid=223&articleid=20110606_223_B1_ULNSes614715 and www.hslda.org/courtreport/v21n2/V21N201.asp
13. www.hslda.org/courtreport/V20N2/V20N206.asp
14. www.charlotteobserver.com/2011/04/18/2231423/home-school-sports-bills-pondered.html
15. www.surfinthespirit.com/teens/sports.html
16. www.cbn.com/CBNnews/144135.aspx
17. nces.ed.gov/programs/digest/d10/tables/dt10_040.asp
Copyright, 2011. Used with permission. All rights reserved by author. Originally appeared in The Old Schoolhouse®Magazine, Fall 2011. Visit The Old Schoolhouse® at www.TheHomeschoolMagazine.com to view a full-length sample copy of the magazine especially for homeschoolers. Click the graphic of the moving computer monitor on the left. Email the Publisher at Publisher@TheHomeschoolMagazine.com.
Have something to say about this article? Leave your comment via Facebook below!
advertise with us
Example: "Gen 1:1" "John 3" "Moses" "trust"
Advanced Search
Listen to Your Favorite Pastors