Exploring the Life of James Madison
Julia E Colloms, TOS Magazine Contributor
Wednesday, September 18, 2013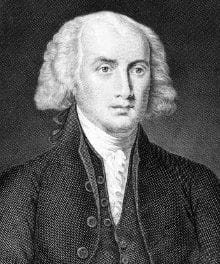 It is interesting that so little is said about James Madison in U.S. history books. His peers referred to him as the "Father of the Constitution" and yet, when we think of our Founding Fathers, George Washington, Benjamin Franklin, Thomas Jefferson, or John Adams comes to mind.
James Madison's political career began as little as five years after he graduated from Princeton University. He served on committees that helped shape the first Constitution of Virginia and the Virginia Declaration of Rights. He also served in the Virginia House of Delegates and the Continental Congress. His efforts and name were well known in the political arena. Therefore, upon arriving in Philadelphia in 1787 for the Constitutional Convention, his thoughts and opinions were duly noted.
Shortly after independence from the British, our young nation struggled to implement the Articles of Confederation. Congress was supposed to be in charge of the Union, yet it had not been given enough power. Individual states were printing their own money. Congress could not get the states to help pay off the debt incurred during the war. So Madison began studying governments from around the world, particularly noting why certain governments failed.
Slowly a plan known as the "Virginia Plan" took shape. Madison strongly believed that our nation's government should begin "with the people." Madison also laid out a plan that detailed a government with three branches: legislative, judicial and national. Not all of his ideas were well received, such as the proposal that larger states be more powerful than smaller states, but through the course of many arguments and much time, many of Madison's ideas were used within the U.S. Constitution.
In 1794, James Madison was introduced to a Quaker widow, Dolley Payne Todd. Their courtship was brief, lasting only a few short months, but their marriage lasted forty-one years. Dolley was a perfect match for James. She was a wonderful hostess, she was savvy about political issues, and she was a trendsetter—both in fashion and in defining the role of "First Lady."
James Madison went on to become Secretary of State to President Thomas Jefferson. Jefferson wanted to expand the Union, and it fell into the hands of Madison to negotiate westward expansion. At the conclusion of Jefferson's two terms, James Madison became the nation's fourth President. He led our nation during the War of 1812, which saw the burning of the U.S. Capitol and the White House. Before he left office. James Madison was able to see the war end and our nation become strengthened both economically and in the eyes of the world.
The Madisons returned to Montpelier at the conclusion of James Madison's Presidency, but he remained active in the political arena throughout his life. On June 28, 1836, James Madison died in his home at the age of 85. A visit to Montpelier is definitely well worth the investment to do so, even if you are well educated about the "Father of the Constitution."
What to Do and See
There is so much to do and see at Montpelier! For families with young children, there are several opportunities to enjoy hands-on experiences.
Hands-on cooking demonstrations
Learn about and explore different period tools
Active archaeological dig on grounds
Kid-sized dig (they can dig for items, wash them, and identify them in a book)
Annie duPont Formal Garden
William duPont Gallery
Visit the site of the original home built by Madison's grandfather
Slave cemetery
Madison family cemetery
Check the website (www.montpelier.org) for exact times, as some demonstrations are open only from spring to fall.
Julia and her husband, Michael, live in southeast Tennessee, where she homeschools their four children and is expecting another bundle of joy in July. She enjoys reading, watching football, and digging her toes into a sandy shore. You can follow her on her new and growing blog at www.fruitfulendeavors.wordpress.com.
Copyright 2012, used with permission. All rights reserved by author. Originally appeared in the April 2012 issue of The Old Schoolhouse® Magazine, the family education magazine. Read the magazine free at www.TOSMagazine.com or read it on the go and download the free apps at www.TOSApps.com to read the magazine on your mobile devices.
Publication date: September 18, 2013
Have something to say about this article? Leave your comment via Facebook below!
advertise with us
Example: "Gen 1:1" "John 3" "Moses" "trust"
Advanced Search
Listen to Your Favorite Pastors