Getting Off the Homeschool Hamster Wheel
Cindy Puhek, Homeschool Enrichment
Wednesday, January 16, 2013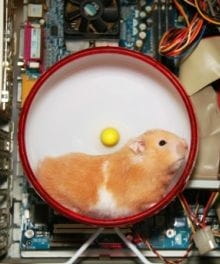 Our culture is experiencing an epidemic of busyness. Families are on the go constantly. It's so bad that even the government has launched public service announcement campaigns encouraging parents to make sure their children have unscheduled playtime.
Unfortunately, this plague strongly effects the homeschool community, and I think sometimes the temptation to overfill our schedules with worthwhile activities is even stronger with homeschoolers than it is within the culture at large. Often homeschoolers feel the need to make up for the opportunities our children are missing by not being in a public school setting. Sports, art, music, drama: all must be coordinated and facilitated by Mom and Dad, or so we tend to think.
All of this on top of homeschooling can lead to frazzled, burnt-out families that decide they're not cut out for homeschooling. But is being on this crazy schedule what's best for our children? My hope in this article is to give you motivation and strategies to step off—and stay off—the homeschool hamster wheel.
I know a family of four with one early-elementary-aged child and one preschooler. This family is so busy with activities that in some seasons, they have only had one meal a week together. Dad had his activities, Mom had hers, and both children had their own—including ballet, tennis, soccer, time to work out at the gym, and church. The mother was torn, because although she was exhausted and knew in her heart that all this running from place to place was not good for her family, she could not see how she could give up any of their worthy activities. After all, how are children going to develop their potential if they're not given opportunities?
As homeschoolers, we're supposed to be creating superchildren, aren't we? Those home-educated children who are held up as examples of the success of homeschooling tend to be the prodigies who excel at academics, sports, music, or business at incredibly early ages. So there is very real pressure placed on homeschoolers to make sure our children have ample opportunities in these areas, even if it means running five children to five different events five different nights a week. Busy schedules and children's achievements are usually the topic of conversation when a group of homeschool moms get together, and this adds to the peer pressure to pack our schedules to the brim. But is creating elite athletes, musicians, scholars, and artists the goal of homeschooling?
I'm not trying to downplay the need to instill in our children the value of pursuing something with excellence, nor am I saying we shouldn't prepare our children for whatever calling God may have for them. What I am saying is that we need to carefully evaluate our view of success.
R.C. Sproul Jr., in his book When You Rise Up, states the following:
So I am sometimes troubled by how we homeschoolers measure our success. It seems every few months the headlines tell us of another triumph, that this homeschooler got a perfect score on the SAT or the other won the national spelling bee, or a third the Young Inventors contest. And we present this as evidence that we are doing a good thing in home schooling. Of course, there is nothing wrong with homeschoolers' achieving, nor is there anything particularly surprising about it. But these are not our successes.
So how do we measure success if not by academic prowess, blue ribbons, or athletic achievement? We need to look at success with eternity in view. God's Word tells me my children will be successful human beings during this life and the next if they learn to glorify God in everything they do and become channels of His love to other people.
We have all heard 1 Corinthians 13 rewritten to apply to specific situations. Please indulge me as I do so once again:
Have something to say about this article? Leave your comment via Facebook below!
advertise with us
Example: "Gen 1:1" "John 3" "Moses" "trust"
Advanced Search
Listen to Your Favorite Pastors