Getting Off the Homeschool Hamster Wheel
Cindy Puhek, Homeschool Enrichment
Wednesday, January 16, 2013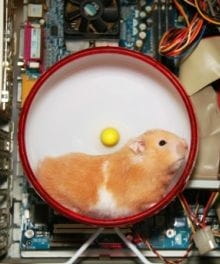 One of the areas we've worked hard to make family-centered is our hobbies. In the summer, we garden. It is very satisfying for everyone to work together to put high-quality food on the dinner table and to preserve the excess for winter. Even the youngest child can help dig potatoes; it's like a treasure hunt! Gardening has been very educational too. All of my children can identify common garden plants before they begin bearing by the shape of their leaves.
In the winter, our spare time is spent sewing and doing other domestic skills such as yarn work and embroidery. We enter our work in a homeschool art competition and the county fair each year, which gives added incentive to work hard and do our best.
We also try to keep our music family-based. This started by default, because when the kids were young, we could not afford to pay for music lessons. So I found an easy curriculum and worked to teach them as much music as possible as I learned along with them. This led us to forming a family music group called the Maranatha Minstrels. We perform regularly at church and for the patients at a rehab hospital. I could have sent my children away and allowed them to play with a youth band or orchestra, and I'm not saying this is a bad thing. But choosing to keep our music within the family allows us to work toward a common goal. Relationships are built as a difficult piece of music is tackled. We don't have to commute any further than our living room for practice. And I'm able to teach my girls the importance of playing music for the glory of God and the benefit of those who hear us every time we perform.
There are also strategies for keeping outside activities from tearing the family apart. One family Dr. Leman talks about in his book joined a community band so all the family members could play together and attend the same rehearsals and the same performances. Other families make it a rule that at least two family members must be involved in an activity in order to put it on the family schedule. We followed this guideline last summer when my oldest two children and myself were docents at a local living history museum. Although we had to split the family since my three younger children were not old enough to work at the museum, we arranged our museum shifts so Dad was always home with the younger children and the baby was down for his afternoon nap the majority of the time I was gone. This allowed Dad to have some valuable one-on-one time with the little children while the older children and I made some great memories together.
Just because we say no to many outside activities does not mean we're sitting around at home wondering how to fill our copious free time. While we probably have more uncommitted time than most families, we dedicate that time to God and find that it is often filled with ministry opportunities. Serving God is also a family affair. One way we've done this is to go as a family and work on home improvements for others. Once we cleaned goat pens, created water troughs, and hung wallpaper for a mom who was single-parenting and running a small farm while her husband was deployed to Afghanistan. Although my younger children could not do much and often required someone who was capable of working to watch them, we feel it's valuable to have them learn to serve alongside us whenever possible. We even created work for the young children to do by having them take trash bags and pick up trash.
Another way we serve others as a family is by opening our home for others to garden and sew with us. This allows us to pass these skills on to others. On more than one occasion, we've organized people to sew for Dress a Girl Around the World. This is a great organization that takes pillowcase dresses to children in areas where clothing is scarce. These events are fun because even a young girl with basic sewing-machine skills can participate and make a dress. And the younger or nonseamstress attendees are made useful by making dolls and jewelry to accompany the dresses or by doing the cutting for the ladies doing the sewing.
Have something to say about this article? Leave your comment via Facebook below!
advertise with us
Example: "Gen 1:1" "John 3" "Moses" "trust"
Advanced Search
Listen to Your Favorite Pastors