Homeschool's New Day in China
Rachel Terry, Educator
Wednesday, March 13, 2013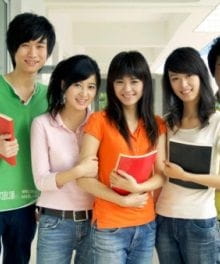 Last summer our family stayed on a university campus in Xi'an, China, for three weeks. Everywhere we went, people wanted to touch our children's blonde hair and pinch their cheeks. When people found out we homeschooled, their jaws dropped, and we soon found ourselves on a television talk show.
From our visit to a Montessori kindergarten on the campus of Northwestern Polytechnic University, we understood that education is paramount in China. Very young children spend long hours perfecting their handwriting, and teachers and administrators are rightfully proud of the beautiful educational environments present in their schools. And yet, everyone we spoke with about education had one name on their lips: Zheng Yuanjie.
Well-known children's author Zheng Yuanjie homeschooled his now-grown son, Zheng Qiya, and the son's success has validated the father's efforts. Parents all over China look at Zheng Yaqi's success—he's opened bookstores, started magazines, and set up photography studios—and wonder if maybe homeschooling has contributed to his successful creative endeavors.
Growing Interest in Homeschooling
Zheng Qiya has succeeded in areas that many Chinese students find mystifying: the arts and entrepreneurship. Traditional Chinese education has been based on rote memory and repetition, and while this method has produced many students who calculate and regurgitate facts at the speed of light, some parents are beginning to question its wisdom.
In 2005, China Daily published an interview with a teacher at Guangzhou Baiyun Institute who was teaching his 9-year-old daughter at home. The father, Wei Yuan, said that he decided to homeschool because the school's teaching methods were "stultifying. Kids have to do sums again and again and they are not allowed to openly express themselves in compositions."
Now-famous Han Han can relate. His parents allowed him to "quit" senior middle school, which in China is much more rigorous than American high school. Schools weren't sure what to do with Han. During his first year of senior middle school he won first prize in China's nationwide New Concept Writing Competition, but he failed seven subjects in his final examinations that year.
After he left school, Han Han began writing with a fury. His first novel, Triple Door, sold over two million copies and is China's best-selling literary work in the last twenty years. Another novel has been made into a Hollywood film. With his newfound freedom, Han became a race car driver, started a blog that has the largest online following in China (more than 300 million viewers), and released an album of self-composed songs. Clearly, Han Han is thriving without a traditional Chinese education, which has people talking. And wondering.
In China, the One-Child Policy ensures that almost all couples have just one child.5 That precious child becomes the focus of his parents' and grandparents' ambition and dreams. In a country with such a large population, competition for college entrance is very stiff, and no parent wants to take risks that may result in lost opportunities for her child. And yet, the success of China's well-known homeschoolers is increasingly alluring.
Obstacles to Homeschooling
Have something to say about this article? Leave your comment via Facebook below!
advertise with us
Example: "Gen 1:1" "John 3" "Moses" "trust"
Advanced Search
Listen to Your Favorite Pastors