Homeschoolers in the Military
Heather W. Allen
Thursday, June 14, 2012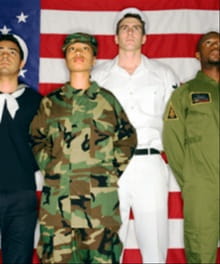 Check the Internet for practice tests, and look for centers that offer classes. The ASVAB test should be taken before enlisting and, after it is taken, it can be repeated thirty days later if necessary to improve scores. If an improvement over that second test is still needed, the test can be retaken six months later. ASVAB scores are good for two years from the date of the test. All recruits, regardless of their Tier (i.e., 1, 2, or 3) are required to take the Armed Services Vocational Aptitude Battery (ASVAB).
Records Required
Because of the efforts of HSLDA, no longer is a GED required as proof that a homeschooled student has completed high school. When being considered for enlistment in the military, a professional-looking high school diploma and a parent-generated transcript are required. Make sure the transcript is an original, typed, professional-looking document that has been notarized to verify that the signatures are those of the individuals who schooled the child.
Military Academies
The military academies provide a rigorous and comprehensive education, including career training. Academy graduates enter military service as commissioned officers with a salary commensurate with the level of commission, and following retirement from service to their country, they will have job opportunities in related fields of interest.
Military academies are extremely selective in their admission policies. It's important to check with each of the academies for admission requirements and to clearly understand what is required in terms of a commitment to that military branch following graduation.
If a student is interested in an appointment to a military academy, begin to investigate the requirements early during the high school years. Extracurricular activities are important, as is involvement in sports. Applicants also must meet the physical requirements. A congressional recommendation is required for appointment to a military academy.
There are five military academies that an interested student might consider: Air Force Academy, located near Colorado Springs, Colorado; United States Military Academy(West Point), located in West Point, New York; United States Naval Academy, in Annapolis, Maryland; United States Coast Guard Academy, in New London, Connecticut; and United States Merchant Marine Academy, located in Kings Point, Long Island, New York.
Military Service After College
Another option, if a student opts to go to college rather than to attend a military academy, is to consider military service after college. Students should check out the Reserve Officer Training Program (ROTC) that is affiliated with the college of their choice. They can apply for the ROTC program and possibly receive an ROTC scholarship. Scholarships may include up to full tuition and other benefits during college, in exchange for an active duty service obligation following graduation. Typically the service obligation is one year of service for every year of college; however, it is best to thoroughly check out the programs before applying.
The TOS Survey of Homeschoolers in the Military
Often it is difficult, if not virtually impossible, to survey a very select population. We wanted to survey homeschoolers in the military, but there wasn't a clear path through which we could tap into those individuals. Thus, we opted to post, on three different occasions, a survey on the TOS Facebookand Twittersites and hope that we might find some homeschoolers who are currently serving in the military, ones who served and have been discharged, and those who tried to serve but were rejected for some reason. In terms of numbers of respondents, our results were not what we had hoped, but they do provide a flavor, if you will, of the issues we thought were important.
Our survey consisted of sixteen questions. Twenty-three individuals responded. Of those who responded, 57% were parents of homeschool graduates who are currently serving in the military, 17% were homeschool graduates currently serving, 13% were parents whose homeschool graduate is interested in serving in the military, 9% were homeschool graduates who have served in the military and have since been discharged, and 4% were parents whose homeschool graduate served in the military and has since been discharged.
Have something to say about this article? Leave your comment via Facebook below!
advertise with us
Example: "Gen 1:1" "John 3" "Moses" "trust"
Advanced Search
Listen to Your Favorite Pastors