Homeschoolers in the Military
Heather W. Allen
Thursday, June 14, 2012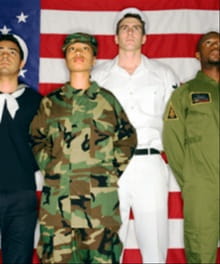 Looking at which branch of the military the individual was interested in serving, 43% selected the Air Force, 17% selected the Marine Corps, 13% selected the Coast Guard, 13% selected the Navy, and 13% selected the Army. The Army Reserves was the choice of 9% of the respondents, and the Army National Guard was the choice of 4%.
If the graduate applied to a specific branch of the military, was he or she accepted? Of those who responded, 87% were accepted and 9% were not.
Of those responding, 90% entered the military as enlisted personnel and 10% as officers. And, when asked what job they were assigned when they finished their training, responses included these: Security Forces, Aircrew Flight Equipment Specialist, Logistics, Signal Corp, Hospital Corpsman, Operations Specialist, Data Analysis, Mechanic, Special Forces—Engineer, Aviation Operations, Light Armored Vehicle Crewman, Infantry Rifleman, and Combat Engineer.
When you went into the recruitment office, did the recruiting officer or military personnel seem favorable to homeschooling? Respondents indicated that 61% were favorable to homeschooling, 9% were negative, and 30% were indifferent.
As far as documentation required was concerned, 86% of respondents stated that their homeschool diploma was sufficient for entry into the military, while 14% said it was not. Seventy-eight percent of respondents were required to show a transcript, while 22% were not required to do so. As for whether a respondent's home education provided opportunities or options to choose from for job choice or placement, 50% said it did and 50% said it didn't.
Did extracurricular activities or special talents provide opportunities for job choice or placement? For 55% of respondents these did, but they did not for 45% of respondents.
Was a placement test required? Ninety-one percent of respondents said yes, while 7% said no. And as far as the test results were concerned, 90% said they scored above average and 15% reported their score as average. No respondent indicated that he or she had scored below average on a military placement test.
The last question asked, was "If you or your child were in the military, what was your overall experience and would you recommend it to others?" Some of the comments offered were well worth sharing, because they provide helpful insights and recommendations:
Entering the military was the exact right choice for both of our sons. It is not something that is right for every person though. Our sons both wanted to be part of something that was worthwhile and larger than themselves, they both appreciated the discipline and structure that the military would provide them, they were not concerned about being away from home, they love our country and had hearts for service, and neither of them was interested in going to college right out of high school. The military gives young men, in particular, an opportunity to get experience, to grow up, to immediately be productive, and to learn what sacrifice and service truly are. That is not the right choice for everyone and not something I would recommend to someone just interested in the college benefits. But when someone has a heart to serve in this way it can be of tremendous benefit to them, and I would absolutely recommend the military to that person.
I have been in the military for over a year and it has been the best choice I could have made, for me. I have grown and matured in a way I would not have been able to outside of the military. I'm 21 and have a house of my own, and I'm living overseas and seeing the world! But of course, there are downsides to all of this and it can sometimes wear you down. That's part of it. Everything has a downside. And I would recommend joining the military to anyone who is single, eager to see the world, and looking to serve his/her country.
Have something to say about this article? Leave your comment via Facebook below!
advertise with us
Example: "Gen 1:1" "John 3" "Moses" "trust"
Advanced Search
Listen to Your Favorite Pastors