Homeschoolers in the Military
Heather W. Allen
Thursday, June 14, 2012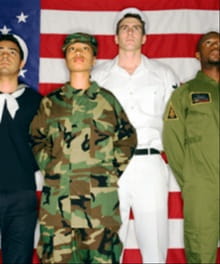 My daughter has been in the Army since 2009. She has enjoyed most of her time and still has 2 years left. At the moment she is in Iraq as a 2nd Lieutenant in charge of a platoon. She has a job where she is learning leadership and new skills most of the time. Not crazy about the running but understands the need. At no time has she been penalized because of homeschooling.
My son is just beginning his military career. He plans to get his education and work his career for a good long time in the military. My husband is a Vietnam vet and both grandfathers are veterans. We believe everyone should be open to the possibility of serving God and their country in some capacity in the military. We were amazed at the wide variety of career options and training opportunities available.
I was enlisted for 6 years, my husband has been in 30 years and counting, both enlisted and officer. The biggest advice we have told our son is to secure the job you want before enlisting so you know exactly what you will be doing. Pray. The Lord will lead and open/close doors.
Yes! The military has a lot to offer. It can pay for college and teach a skill useful in the civilian world. It can also instill confidence. It is, however, not for everyone and should be considered prayerfully.
Summary
Many options are available to homeschoolers in the military, and it would be prudent to anyone interested to begin researching those options to determine if the military might be the career path choice. Pray for wisdom and guidance. Pray to determine if God is leading you in the direction of the military. Pray about the choices before you. And pray for those currently serving in our military, especially for those in harm's way.
Heather and her husband, Steve, live in Edgewood, New Mexico, where they have homeschooled their five children: Edward (17), Joseph (15), Emily (11), Hana (6), and Ezekiel (5), for the last twelve years. When not homeschooling, doing things with her family, or writing for TOS, Heather works as a human factors engineer in her home-based consulting business. For more information about the Allen family, please visit their website at www.hippityhooves.com.
References:
General Information
1. The ASVAB Explained. www.military.com/ASVAB/0,,ASVAB_Explained1.html
2. Benefits: Money for College and More Benefits: Bonuses for Home School Graduates. www.goarmy.com/benefits/additional-incentives/home-school-graduate.html
3. Bohon, Dave (Friday, 13 May, 2011). Military Weighs Change in Home School Recruitment Policy. The New American.thenewamerican.com/culture/education/7462-military-weighs-change-in-home-school-recruitment-policy.
4. Reserve Officer Training Corps. www.rotc.com
5. The Military Homeschooler. www.militaryhomeschoolers.com
Branches of the Military
1. United States Air Force www.airforce.com
2. United States Navy www.navy.mil/swf/index.asp
3. United States Marine Corps www.marines.mil/Pages/Default.aspx
4. United States Army www.army.mil
5. United States Coast Guard www.uscg.mil
Military Academies
1. United States Air Force Academy www.usafa.af.mil
2. United States Coast Guard Academy www.cga.edu
3. United States Merchant Marine Academy www.usmma.edu
4. United States Military Academy (West Point) www.usma.edu/SitePages/Home.aspx
5. United States Naval Academy www.usna.edu/homepage.php
Publication Date: June 14, 2012
Have something to say about this article? Leave your comment via Facebook below!
advertise with us
Example: "Gen 1:1" "John 3" "Moses" "trust"
Advanced Search
Listen to Your Favorite Pastors