How to Find Online Literature Resources
Andy Harris, Author
Wednesday, April 02, 2014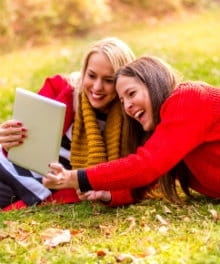 Literature is one of the pillars of any educational system, and of course the key to literature is reading a lot of books. Fortunately, many of the great books we often want our children to read and hear are available for free if you know where to go. There is certainly value in traditional paper books, but it's also possible to supplement traditional materials with E-Books and other online resources. You do not need a specialized E-Book reader to read literature online. Most of the resources I describe in this article can be read on a computer, a tablet, or even a phone.
U.S. copyright law allows books to be released into the public domain some time after the author has died. (The exact time span has changed through the years but is now seventy years after the author's death, in most cases.) This means that a book that was written before the 1930s may be available for free if you know how to look.
Note that not every book that is in an electronic format is available for free. However, there are many resources for purchasing E-Books online legally, including Amazon.com, the iTunes store, and more. For this article, I will focus on the free resources you might not already know about.
Any discussion of literature on the web must begin with Project Gutenberg. The basic idea of this project is to gather all the literature that is in the common domain and make it available to anyone. The result is an excellent online library consisting of thousands of books in many languages. Check out the site to get a feel for the various offerings on this incredible site.
Most of the books on this site can be downloaded in a number of formats that can be read on a normal computer or any E-Reader. Since the site focuses on books in the public domain, these tend to be older books. Many of the classic books you may want to assign for a literature class will be available on this site. Note that the site offers a wide variety of books, and not all topics are suitable for children. You will definitely want to be with children as they look for materials on the site. (There are no objectionable images or words on the site itself, but there are some works with prurient content in the archive.)
The Online Books Page is a project of the University of Pennsylvania library. It includes more than a million titles available to read freely on the Internet. While it has some of the same content found within the Gutenberg Project, it also has materials from other sources. I have found this to be an especially good resource for nonfiction materials and books that have more recently entered the public domain.
Baldwin Online Children's Literature Project
This wonderful resource contains hundreds of children's books (mostly from the 1930s and earlier). Although most of the titles will not be not familiar to modern readers, you' are likely to find interesting books to read together. The history section is especially interesting.
This site offers an interesting alternative: free audio books. While these books are available as downloads that are quite a bit larger than their more traditional cousins, audio books can offer lots of fun for long car rides or while you are commuting. All of the books are read by volunteers, so the quality can vary, but reading part of a classic book to add to the archive might be a very interesting project. It's possible to download an entire book at once or to subscribe to it as a podcast.
Bibliomania is an interesting site that gives you access to a number of the same E-Books that are available on the other sites. The most intriguing part of the site consists of the other resources, including a teacher's research center, study guides (many written by Oxford scholars), and research resources.
Have something to say about this article? Leave your comment via Facebook below!
advertise with us
Example: "Gen 1:1" "John 3" "Moses" "trust"
Advanced Search
Listen to Your Favorite Pastors