Inspiring the Writer in Your Teen
Kim Lundberg, Home School Enrichment
Friday, December 30, 2011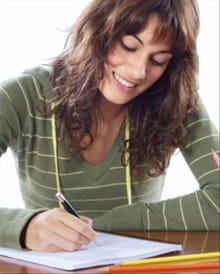 If your high schoolers find it difficult to write or type out their thoughts as they are mentally composing, suggest they go back to the tried-and-true method of dictation—or rather, auto-dictation. Teens can record their stories and ideas on a tape or CD and then proceed to put it down on paper as they listen to their words again, feeling free to pause and revise as they go.
Another important form of practicing writing—one that can result in wonderful improvements in style and word choice—is reading. Yes, reading. It was a great model for our kids' writing when they were young, and it's still the best way to improve their writing now that they're older. Make up a list of classic books (and lesser-known but other interesting ones, too), and require your students to read through them at a consistent pace. Don't make them do book reports, please; but do ask them to share passages with you that they find fascinating, beautiful, or thought-provoking. Their writing will improve seemingly effortlessly, and you will be building your relationship with them at the same time.
Positive Feedback
But how should we evaluate our teens' writing? Many homeschool parents do not feel up to the task of giving their high schoolers meaningful feedback on their work. This is an area where we need to relax—and yet be careful. First of all, we need to understand that we know what good writing is. If a piece of writing speaks to us, if it makes us think, if it makes us feel, if it amuses us or edifies, then the writer has done his job well.
Don't worry about comparing your children to others. Simply look for improvement. Is your teen's writing coming alive? Reaching you in ways it hasn't before now? That's what you're looking to see. You need to emphasize the positive when it comes to giving feedback. Find everything good in your student's writing. (Yes, there must be something good there!) Talk about what works. Encourage them to expand on their strengths.
When it comes to the weak aspects of their writing, avoid discussing the spelling and grammar errors. Just write in the correction for them to copy or circle the problem for them to research and fix. You should not focus on these technical issues; they will gradually get better if the students are reading and writing on a regular basis. (If your teens make the same grammar mistake repeatedly, and you note it repeatedly, and they fix it in their revisions repeatedly, they will eventually understand what they're supposed to do.)
When you want to give your high schoolers constructive criticism regarding their writing (and you should), be very specific. You don't want to overwhelm them. Begin in a limited fashion, pointing out a couple of things they can change that will result in clear improvements in their writing. For instance, perhaps they can use more active and descriptive verbs, change around their sentence structures, vary the pacing of their fiction, or add in historical and literary references to their essays. Give them examples of such changes, and then be sure to offer sincere praise when they start to implement these ideas.
Our young people need to take the risk of expressing their thoughts and dreams to others. Only then can they grow fully, and only in such sharing can they inspire others to growth and creativity of their own. Helping our teens to find their writing voice and encouraging them to "speak" it loudly, frequently, and honestly is not an arduous, thankless task. Rather, it is an honor for us as homeschooling parents. Our children's words throughout the years will more than repay us.
Originally published on March 27, 2009
---
Kim Lundberg is the busy mom of 10 great kids. She and her family have been homeschooling for 16 years, and they make their home in beautiful northern California. Kim enjoys teaching drama, writing, and world history classes, as well as reading mysteries, baking goodies, camping, and listening to her kids talk, sing, and make music.
This article was originally published in the Mar/Apr 2009 issue of Home School Enrichment Magazine. Get more great homeschooling help by downloading our FREE 8-page report entitled "The Secret to Homeschooling Freedom" by visiting http://HomeSchoolEnrichment.com/resources/report.htm
Have something to say about this article? Leave your comment via Facebook below!
advertise with us
Example: "Gen 1:1" "John 3" "Moses" "trust"
Advanced Search
Listen to Your Favorite Pastors