Introduction to Microsoft Word
Jeffrey Ober, www.Ober.org
Wednesday, November 14, 2012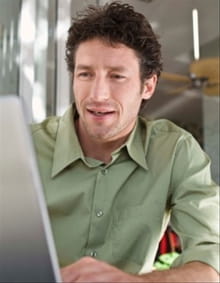 Columns
If you would like to include columns in your document, as you would for a magazine or newsletter layout, you can do that with the Columns feature in Word. This item can be found in the Page Layout ribbon, in the Page Setup section. The easiest way to add columns is to click on the Columns menu item and select the number of columns that you'd like to appear on your page. As soon as you select it, the page will add the columns and you can continue to type. Word will adjust your text and move the cursor to the next column as needed.
For more advanced options with columns, click the More Columns option at the bottom of the Menu item. That will open another window and give you additional options for columns, including manually setting the size of each column (so that you can create columns of different sizes) and adding a line between the columns.
Spell-Check
Another very useful feature of Word that is turned on by default is the spell checker. This module will attempt to check every word you type to determine if it exists in the dictionary. When a word that is not found in the dictionary is identified, Word will underline that word with a squiggly red line. When/if this line appears, if you right-click on the word, a menu with a few options will pop up. If the word you intended to type is in that list, simply click that word, and the word you typed will be replaced with the word that you select. If this is a word that you know you have typed correctly, but Word does not recognize the word (for example, your last name), you can select Add to Dictionary from the list. Or, if this is a word that is correct for now, but one that you don't want to be remembered forever (such as a technical or slang term), you can select Ignore from the list, and all the red underlines will disappear. Please note that the spell checker cannot tell if you have used the wrong word—only that the word you have typed is spelled correctly!
Using Microsoft Word to type letters is quite simple. However, Word has a large number of more advanced features that truly make it a powerful word processing program. As you become more familiar with the Word application, experiment with other buttons and options. You can't break it by clicking a button, so if you want to see what something does, just try it out!
Copyright 2012, used with permission. All rights reserved by author. Originally appeared in the February 2012 issue of The Old Schoolhouse® Magazine, the trade magazine for homeschool families. Read the magazine free at www.TOSMagazine.com or read it on the go and download the free apps at www.TOSApps.com to read the magazine on your mobile devices.
Jeffrey Ober is a full-time freelance writer and professional sports photographer. He and his wife Rikki live in remote Juneau, Alaska, where they homeschool their two children. He has more than twenty years of experience working with and programming computers. Read more about Jeffrey at his personal web site: www.ober.org.
Publication date: November 14, 2012
Have something to say about this article? Leave your comment via Facebook below!
advertise with us
Example: "Gen 1:1" "John 3" "Moses" "trust"
Advanced Search