Life after Homeschooling … for Parents
Andrea Longbottom
Wednesday, July 18, 2012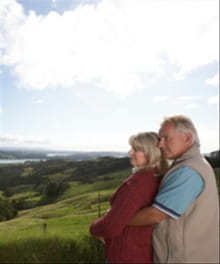 Editor's note: This article is adapted from Andrea Longbottom's piece which ran originally on HSLDA.org. Courtsey HSLDA. Used with permission.
Do you remember how you felt after receiving your high school or college diploma? Remember the question, So what are you going to do now? When you come to the end of your homeschooling journey and graduate your last child, that question has a way of popping up again.
You've poured your time, money—your life—into teaching your kids at home. For many parents, this has taken several years, even decades. And suddenly, or perhaps gradually, depending on how far apart your kids are in age, those years are over. Your kids are starting to answer the What next? question and find their own way—it's your turn, too.
So what is next?
First, congratulate yourself. You made it! Homeschooling is no easy task, and you definitely deserve to enjoy the fruits of your labor: possibly a freer schedule, the ability to explore other interests, more time with your spouse, married children, and grandchildren.
Next, consider the homeschooling movement. It has come a long way, and you're part of the reason for its success. But it's like any movement—it thrives on the constant commitment and effort of its advocates. New generations of homeschoolers build on the underpinning of retired homeschoolers who have walked the road before them and made it. The existence and growth of homeschooling depends in large part on its "undergrads" and "alumni" fighting to protect it. While homeschooling is now legal in all 50 states, parents still encounter numerous restrictions and face threats to their freedom from policymakers. The very foundation of homeschool freedom—parental rights—is under attack in America and other countries through court decisions and international law.
You're still part of homeschooling, even after you're done teaching your kids British literature and algebra. And homeschooling still needs you!
"The next generation of homeschoolers needs your wisdom, your input, your encouragement, and your time," says HSLDA President Mike Smith. "It's important for parents to keep connected to help these new families succeed and to stay involved to protect all parents' right to homeschool today and tomorrow."
As a homeschooling parent who has earned the title of "veteran," you obviously believe strongly in the freedom to choose how your child is educated. You committed yourself to giving your children the education you felt was best, and your children need that same freedom to homeschool their children. Will you commit to helping protect homeschool freedom for future generations?
Staying Connected
You don't have to speak at conventions or homeschool your neighbor's kids to stay connected to home education. You may find that informally mentoring or simply staying on top of homeschool news works best with your new schedule. Here are some ideas:
Be Informed. Keeping up-to-date is the first step towards protecting the liberty you've already enjoyed as a homeschooling parent. Scan homeschooling magazines and websites, and sign up for an email service with your state or local homeschool organization and with HSLDA. Before it's time to vote, find out if political candidates are supportive of homeschool freedoms. (Did you know you can still receive HSLDA membership benefits even when you're no longer homeschooling?)
Be an ambassador. No matter what you do next, you'll always find yourself telling others about homeschooling and fielding questions from curious parents. You could develop this into a more formal role and speak at local or state homeschool events. Or maybe for you, this means being available to other homeschooling parents or those considering homeschooling, and updating yourself on homeschooling news so you can share it with them. (Find out about the Home School Foundation's Ambassador Program)
Have something to say about this article? Leave your comment via Facebook below!
advertise with us
Example: "Gen 1:1" "John 3" "Moses" "trust"
Advanced Search
Listen to Your Favorite Pastors