Life after Homeschooling … for Parents
Andrea Longbottom
Wednesday, July 18, 2012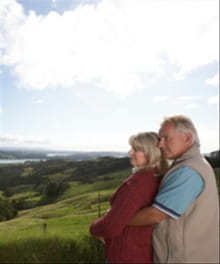 Similarly, Ed encourages dads approaching homeschool "retirement" to take time off work and do "big" things together as a family, such as an overseas vacation, mission trip, or volunteer project with a local ministry. "These will serve as capstone events for your homeschooling experience, further cement your family together, and provide wonderful memories that will last a lifetime," he says.
You Don't Know Til You Try
In 2006, Steve and Tanya Dobler's youngest daughter graduated, leaving Tanya out of a "full-time job." In the following months, Tanya asked herself whether she should go back to work as a nurse. But she hesitated, knowing it would require intensive training. In the meantime, the Evington, Virginia, mom continued volunteering at a pregnancy care center and kept her eyes open for new opportunities.
One year later, Tanya took a tax class and began handling taxes for others. The next year, she followed up on another interest and received training to teach adult literacy, which ended in her decision to "Forget the taxes!" Since then, she has enjoyed the rewards of teaching a handful of internationals. She loved homeschooling and now has the opportunity to continue teaching and finding materials tailored to different personalities, an aspect of home education that she especially savored.
Steve supported Tanya through the transition by listening to her and praying with her. He also helped her find resources to give her direction, such as career testing. "Be patient with and sensitive to your wife," he advises other dads. "She may be grieving over the loss of her 'career' and children. It may take some time." Steve has also tried to "consistently tell Tanya how much I appreciate her tremendous investment in our children and that the investment has made a huge difference and was not in vain."
Currently, Tanya is toying with the idea of following up her literacy training with formal classes and certification. "I'm still not actually sure," she admits candidly. "You'd think I'd be grown up by now, know what I was going to do!"
As Tanya's story shows, sometimes you have to find the pursuits that excite you and be open to new experiences. She encourages moms to be aware of their interests while homeschooling and be thinking beforehand of ways to develop those interests after the homeschool years are over.
Regarding ongoing involvement with homeschooling, Tanya points out a challenge retired homeschoolers may face. "Where your family is—that's where you're focused," she says. When the kids are college age, parents tend to move along with them and may feel they've moved past some homeschool activities (such as certain support group functions or meetings). As you move forward, it's important to find ways to stay connected that fit well with your changing lifestyle. Tanya says opportunities have naturally opened up for her to encourage other homeschooling parents and share ideas with them.
Back to the Classroom
Many parents go back to full-time jobs once they're done teaching their own kids. Janet Longbottom and her husband, Sam, of Huntsville, Texas, knew this would be the next step. Janet worked at a couple of different clerical and teaching jobs before becoming a 4th-grade teacher at a local Christian private school.
While she misses a more flexible schedule and admits teaching other people's children can be difficult, Janet has found her job rewarding. For example, she says her years of homeschooling prepared her to teach from a biblical perspective and gave her familiarity with the curriculum being used. "I personally saw God's hand in my life equipping me to be teaching in a private school setting," she says. "Yes, I have to work outside the home, but I'm in a wonderful environment and able to teach from God's word. It's like a continuation of homeschooling."
Have something to say about this article? Leave your comment via Facebook below!
advertise with us
Example: "Gen 1:1" "John 3" "Moses" "trust"
Advanced Search
Listen to Your Favorite Pastors