Life after Homeschooling … for Parents
Andrea Longbottom
Wednesday, July 18, 2012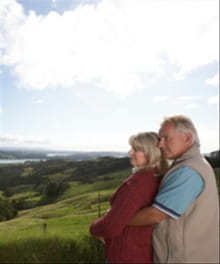 "I wanted Janet to be happy in whatever she ended up doing," Sam says. "There's a certain amount of excitement that goes along with coming to the end of our homeschooling years—you don't always know what's ahead."
Sam and Janet continue to keep tabs on legal news about homeschooling, adding that email alerts are an easy way to stay up-to-date even if you're short on time. "We try to support candidates who believe in the freedom to choose homeschooling." They are also always ready to recommend HSLDA membership and to share their experience with other parents who are considering home education or looking for advice.
Janet encourages retired homeschoolers to "look to the future, because there's always a hope that your children might become homeschooling parents." Her parting words? "Take a great vacation because you"ve done a great job! Pat yourself on the back, because you've done something that's very unusual in this day and time."
Doing What You Love
Scherenschnitte. That's the German for "scissors snipping" or artistic paper cuttings—and artist and retired homeschooling mom Kim Frey loves it. Also a fan of Fraktur (an artistic type of document-making) and silhouettes, she creates her own paper cut designs and illustrates them with paint or pencil.
"Homeschooling really taught me to love learning," Kim says. "And it's been exciting to explore many areas of art." Since homeschooling, she and her husband, Chris, have built up their Delaware-based folk art business, Thistle Dew Mercantile, where Chris handles carpentry and Kim does the artwork.
Kim also teaches art classes for children and adults—her current class is composed of elementary-age children who attend local public and private schools. And she finds time to work on children's book illustrations, having taken an online course in the subject. Another goal is to finish her art degree, which she is working towards by taking online classes.
Kim's interest in the paper arts took flight in 1989. While homeschooling, she created small amounts of artwork, displayed her creations in her parents' general store next door, and kept in touch with customers. She and Chris started Thistle Dew Mercantile in 2003, partly to teach their two daughters the ropes of running a business.
"It's hard to find time to pursue hobbies and interests while homeschooling, but if you're able to find an hour or two to do something you enjoy, it can be refreshing," Kim says. She goes on to explain that she often worked on art together with her girls. "Often, the activities and interests we develop as a family can grow into an area of personal interest that will be a big part of our post-homeschooling years."
She also encourages parents to devote time and effort to their marriage during the homeschool years. "A strong marriage will be encouraging to your children as they begin their own families, and having each other will help you through the transition to the next stage of life."
Round the Bend
As you can see, the answers to the What now? question range far and wide. As you enter the post-homeschooling years—or approach them—remember to look forward with enthusiasm to the next step. "I enjoy the closure of a task completed," says Adrienne McClendon, reflecting on her homeschool experience. "A new chapter opens."
While the next chapter will be different for each parent, the tie to homeschooling unites them all. As you find your way, consider the part you have still to play in protecting homeschooling for future generations and encouraging other moms and dads.
"You understand why people are homeschooling," says Rosie Watson about her continued involvement with the homeschool community. "And if I can be a part of something I care about deeply, it's very rewarding."
So, what's next for you?
Andrea Longbottom is a homeschool graduate who lives and writes near Houston, Texas.
Home School Legal Defense Association is a nonprofit advocacy organization established to defend and advance the constitutional right of parents to direct the education of their children and to protect family freedoms. Through annual memberships, HSLDA is tens of thousands of families united in service together, providing a strong voice when and where needed.
Publication date: July 18, 2012
Have something to say about this article? Leave your comment via Facebook below!
advertise with us
Example: "Gen 1:1" "John 3" "Moses" "trust"
Advanced Search
Listen to Your Favorite Pastors