Life Purpose Planning: When Crisis and Calling Collide
Dewey Novotny, The Old Schoolhouse
Friday, January 13, 2012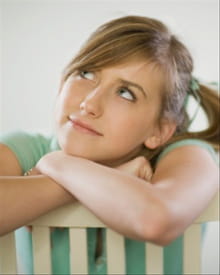 I recall the small piles of trashed tissue, the puffy eyes, and the quivering lip. And I remember thinking that there might be a problem. Hey, just call me Mr. Sensitive.
This is the story of Gina, my dear daughter—her big struggle and her finest discovery.
Gina was 18, a faith-filled homeschool graduate looking for the next big thing. That's when the questions started to avalanche in on top of her. The questions and related turmoil created what she later referred to as her "midlife crisis."
Her crisis was prompted by nice people who asked tough questions: "Now that you're all grown up, what's next?" and "What are your plans for the future?" She had lots of impressive answers that satisfied friends and family. They just didn't satisfy her. And they didn't get down to the heart of the real question with which she struggled: "What is the meaning and purpose of my life?"
Frustration!
Because she lacked a clear and convincing answer to the core question of life purpose, Gina struggled to prioritize her days, establish relevant life goals, and make solid plans for the future. She had ample drive but was "directionally challenged" as opportunities, needs, and friends pulled her first one way and then another. Each day was busy, but her days were full of activities that had no apparent purpose. The result? Frustration.
Gina wasn't the only one facing a challenge. As her parents, my wife and I struggled to offer wise counsel, give compelling alternatives to poor choices, and discern which opportunities were most suitable. It was tough to know how best to invest our time, energy, and resources to help equip her for life. Just how do you train up a child in the way she should go, when you don't clearly understand how the child, her leanings, and her specific calling fit together?
Work Together to Find an Answer
Faced with a big problem and few answers, Gina and I set aside four hours and sought out a quiet place to be alone with God. We went in looking for a needle in a haystack. What we found was a "Golden Thread" that God had woven through the entire fabric of her life. This Golden Thread was ultimately tied to three essential pillars of purpose: her significant audience, her delightful method to serve them, and her life-changing message to share with them. Tracing the Golden Thread followed a three-step process:
Discover your life purpose.
Define your pursuit.
Develop your plan of action.
A Process of Faith
There is only one way to successfully navigate this process—by faith, which is the Spirit-led ability to comprehend and accomplish God's will. Only by faith can we understand the purpose for which God has created us. Only by faith will we understand how to accomplish the great things He plans for us.
Discover Your Life Purpose
A daughter in distress is a call to action. We started with prayer and a yellow legal pad. Then, I asked Gina to list past activities and identify the ones that she had most enjoyed and through which good things had been accomplished. She noted what and whom she took delight in and recorded where she had seen God at work. For activities that she didn't enjoy, she mentioned critical aspects of those situations that were missing and noted why those were important to her. She also listed activities and circumstances that had caused her to grow the most.
Have something to say about this article? Leave your comment via Facebook below!
advertise with us
Example: "Gen 1:1" "John 3" "Moses" "trust"
Advanced Search
Listen to Your Favorite Pastors