Our Heritage from God
Richard Barette, Home Educating Family Magazine Contributor
Wednesday, November 06, 2013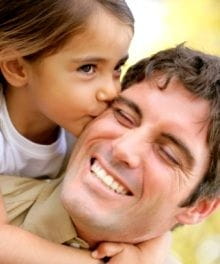 A dad can positively influence his daughter's choices. He can influence where she attends college and what subjects she studies. He can influence her career choices. More importantly, he can influence her choice in men. A large part of a father's job is to treat his daughter in a manner that shows her the standard of behavior she should expect from the man she eventually chooses to marry. Treat her like the little lady that she should become, and she will grow up to settle for nothing less than that standard from the man in her life. It isn't a perfect formula with guaranteed success. There is a little rebellion in all of us, and our children show theirs from the moment they learn to crawl. If we strive to raise our daughters in the way they should be, the chances are great that when they grow old they will not depart from it. I read that in a book somewhere.
Raising my daughter is a celebration of life. I wish I could convince all men to feel the same way about their daughters. Because we almost lost Ada before we got a chance to know her, each day of the last eight years feels like a second chance. I don't ever want to take her for granted. Every morning, living proof that God hears our prayers and answers them comes walking into the kitchen to ask if she can play video games before starting her school work. I remind her that she cannot play video games before her school work is completed. She snaps her finger and exclaims, "Aw, nuts!" Then she makes a bowl of ramen noodles with minced onions and "Latalian" salad dressing and eats breakfast. With croutons. You can't forget the croutons.
Raising a child is a celebration of life. I wish I could convince everyone considering abortion of this. Substitute the word "boy" for "girl" and "son" for "daughter" and this message is the same. All too often we bombard our young people with dire warnings concerning the consequences of premarital sex and unplanned pregnancies. They are valid warnings, but we need to expand the scope of our dialogue. If we do not celebrate life with all of its delights, as well as all of its difficulties, is it any wonder why so many people are convinced that the only option available to them when they are unprepared for pregnancy is the termination of the pregnancy? Life is a blessing from God, and the tragedy of abortion is that men and women are renouncing their heritage before they have a chance to enjoy it.
Each time I return home from a Boy Scout campout reeking of camp fire, my daughter meets me at the door, jumps in my arms, tells me that I'm stinky, and hugs me as if she will never let me go. This is the same girl who leaves me banging my head on the kitchen table in frustration after writing the number seven as her answer to all twenty-five math equations just because seven seemed like as good a number as any. Both are moments to be celebrated and enjoyed. And dads, when your daughter does the same thing, you should be celebrating, too.
Endnote: Byrd-Craven, J., Auer, B. J., Granger, D. A., & Massey, A. R. (2011, December 19). The Father–Daughter Dance: The Relationship Between Father–Daughter Relationship Quality and Daughters' Stress Response. Journal of Family Psychology. Advance online publication. doi: 10.1037/a0026588 http://www.goodtherapy.org/blog/supportive-fathers-reduce-daughters-stress-0103113/
Richard Barrette is a full time, stay-at-home, homeschooling father of three children. Married to a smart and funny lady affectionately called "The Boss," he enjoys a twenty-seven foot commute to work each morning, from the foot of his bed to the coffee pot.
© 2013 by Home Educating Family Association. All rights reserved. Used with permission. Originally published in 2012 Issue 4 of Home Educating Family Magazine, the publication with the most meaningful discussions taking place in the homeschooling community today. Visit hedua.com to read back issues and for more articles, product reviews, and media
Publication date: November 6, 2013
Have something to say about this article? Leave your comment via Facebook below!
advertise with us
Example: "Gen 1:1" "John 3" "Moses" "trust"
Advanced Search
Listen to Your Favorite Pastors