The Gift of Time: Extending High School
Christa Sterken, The Old Schoolhouse Magazine
Friday, February 18, 2011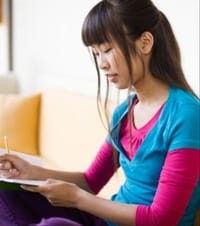 "She's not ready."
Silence hung in the air between us. Being brought up with a public school mindset, it was a totally foreign idea to hold back our ninth-grader. My gut told me to put the brakes on, but presenting it to my husband was another story, one that required prayer, research, thoughtful planning, and discussion. The idea had been brewing for months, but it was such a far-out concept that I was hesitant to suggest it.
As our child began ninth grade this year, it quickly became apparent that she needed more time to master several academic concepts. The question started becoming louder in my head: "Why can't we keep her home an extra year?" As my husband and I started discussing all the pros and cons, we agreed that an added year was best for this child. It became an exciting proposition that has turned into a reality.
Perhaps you have a child who isn't cut out to follow the scope and sequence predetermined for him? The reasons vary. Learning disabilities are often cited, as are parents who desire to give their children "extra" education regarding life skills etc. A good dose of prayer is a great first step when deciding if this path might benefit your family. Psalm 139:14 states: "I will praise thee; for I am fearfully and wonderfully made: marvelous are thy works; and that my soul knoweth right well." Applying Scripture to this concept provided clarity and established confidence. Our children are unique, and each one is created to live and learn according to his or her personal makeup. Guidelines are important and designed to be helpful, but each child must be considered individually, and serious thought must be given to what kind of plan suits his needs best. It is hard to decide to go against the established norm, but as a parent you know the needs and abilities of your child better than anyone else does.
It turns out that our story is not original. Many families have decided on some version of an extended high school for their children. We attempted research but found there were no books or articles available that supported a five-year high school plan. One fantastic source of encouragement came from online homeschool groups. The advice flowed generously as people shared their thoughts. These groups can be an excellent venue for posing questions and having candid discussions. Ask questions, seek the counsel of others who have experienced similar situations, and be blessed by their input. Check out the laws in your state, you should be protected within your right as a parent to choose an individualized program. For our school records, we simply will start her transcripts with year A, ending four years later with year B.
If you feel led to pursue this path, now it is time to plan a few logistics."Without counsel purposes are disappointed: but in the multitude of counselors they are established." (Proverbs 15:22) Grabbing a pad of paper, make two simple columns titled "Pros" and "Cons." This is essential. Without clarifying why you are making this decision, it will be difficult to stand firm later, when you are questioned. It is highly likely that someone will challenge this plan. Being prepared with your answers makes it easier to defend your choices, should you choose to do so. Remember, you have the right to make this choice; a list may give you an added boost of confidence with which to carry out your plan.
Write down every conceivable challenge and benefit while considering your family's needs. For example, our teen expressed a desire to take two years for her difficult courses such as Biology and Algebra, due to a sincere desire to go slowly and understand them better. She is aware and comfortable with her learning capabilities and knows an extra year will allow her to learn at her own pace. We have spent a considerable amount of time discussing how God created us all to have different skills. She is aware of where her challenges and strengths lie, and she is excited about the five-year plan. Take a look at the sidebar for more information about discussing this with your teen.
Have something to say about this article? Leave your comment via Facebook below!
advertise with us
Example: "Gen 1:1" "John 3" "Moses" "trust"
Advanced Search
Listen to Your Favorite Pastors