The Gift of Time: Extending High School
Christa Sterken, The Old Schoolhouse Magazine
Friday, February 18, 2011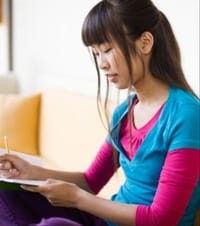 It is imperative to remember that every child is different. There is no magic graduation age that suddenly qualifies them as responsible adults. It is a wonderful gift to be able to know our children and help them make wise choices. Apart from the temporary insecurity that naturally accompanies a decision that would be open to scrutiny by the public, we were unable to identify any cons. We have valid reasons for this choice, and those reasons offer us comfort.
Homeschooling mom, Alissa, shares: "The public school guidelines are arbitrary and really don't always make sense for homeschoolers. We don't have thousands of children to organize and test and account for. A true education is one that develops over a lifetime, not for twelve years in a room with one's peers. Who says 'high school' must be completed by 17 or 18? Does the learning stop at this magical age?"
Role-Playing Responses: Helping Teens Find Answers
We wanted our teen to have a firm grasp on why our family chose this route. We explained that although our family decided to pursue a five-year high school plan, she might encounter people who would express curiosity. Consequently, she needed to be able to respond to inquiries clearly and confidently. Don't send your child out on her own without helping her formulate excellent answers to potential questions.
Role-playing is an excellent way to casually see how your students respond to critical questions. Your preparation in considering whom the child might come in contact with, and tossing out possible questions, can help your family avoid feeling the need to be defensive and instead—be confident. For example, how might grandparents respond? What about the youth group leader? Neighbors who know what grade your child was in last year, wondering why he is still in that grade this year? Kids who feel sorry for them? Friends or peers? We told our teen she was not obligated to explain our choices; rather, we helped her define what she believed so that she could give ready answers.
This exercise can be somewhat silly, with outrageous questions mixed with serious ones. A variety of questions provides a great way to practice responding without confusion. We made it clear to her that some people still won't "get" it, and that is ok. That doesn't make it a bad idea!
In conclusion, I am in no way advocating that the decision to extend high school years beyond the traditional four-year period is right for every family. Many children will still follow the traditional four-year high school plan with great success. Some will finish early and be completely prepared for leaving the nest.
Others, like this child of ours, benefit from extra time at home. As these students progress through their high school studies, they might even decide to work toward a goal of finishing earlier than planned. I encourage you to evaluate each student's specific needs and adjust accordingly, prayerfully, and wisely, thus equipping the student to go forth with self-assurance into adulthood.
Weighing the Pros/Cons With Your Teens
This is a critical step that must be implemented in order to successfully adjust a student's high school plan. Admittedly, it was difficult to start the flow of conversation as we sat down to discuss this topic. Our teen was hesitant at first to work on this, but her enthusiasm grew quickly, and the time was fruitful. With the use of simple charts, we started listing any perceived benefits from extending high school to a five-year program; we also listed any potential drawbacks.
In the discussion, nothing was off limits. The key to our success pivoted on reassuring our daughter that she played a key role in the decision. It was all for her benefit, and therefore we needed to know how she felt. Your teen might surprise you with his or her viewpoint, giving you a green light to share new ideas.
Christa Sterken is married to her best friend, Art, and is grateful for the opportunity to homeschool their two amazing daughters. What an exciting journey it is! She enjoys sharing life observations through her freelance writing. You can find her at http://christasterken.wordpress.com/.
Copyright 2010. Originally appeared in The Old Schoolhouse®Magazine, Fall 2010. Used with permission. Visit them at http://www.TheHomeschoolMagazine.com.
For all your homeschool curriculum needs visit the Schoolhouse Store, where shipping is always free (U.S. only)!
Have something to say about this article? Leave your comment via Facebook below!
advertise with us
Example: "Gen 1:1" "John 3" "Moses" "trust"
Advanced Search
Listen to Your Favorite Pastors