The How, What, and Why of Accelerated Distance Learning
Linnea Lewis, Homeschool Enrichment
Friday, September 09, 2011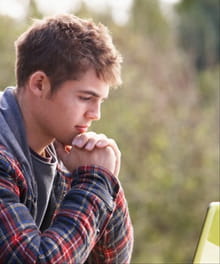 One of the big questions facing homeschoolers is, "What about college?" Even if you've just started your home education journey, already your next-door neighbor (after asking about socialization) will question whether your child will be able to get into college.
Rather than trying to convince you that home-educated students can and have done exceptionally well in traditional college settings—other resources have already done that1—I'd like to consider the relatively new concept of Accelerated Distance Learning and how it worked in my real-life experience.
What Is Distance Learning?
Distance learning simply means studying off-campus, often from home, via credit-by-exam (CLEPs, DSST, TECEPs, etc.), correspondence courses, online courses, portfolio assessment, or other methods. Accelerated Distance Learning specifically focuses on working faster and more efficiently than the traditional semester-by-semester approach.
Benefits of a Non-Traditional Approach
Some of the benefits of distance learning include greater flexibility for work or ministry, protection from the temptations or distractions of campus life, accountability to family and mentors while living at home, efficiency through individual instruction and time-saving methods, opportunity to intern or work in your field while earning a degree, and the cost-effectiveness of certain distance learning techniques.
As parents and young people begin thinking about life after high school, I would encourage them to make careful decisions—on purpose and with purpose. Avoid reaching conclusions by default! Well, everyone I know is doing this . . . I don't know what else to do . . . Of course my child has to go to college—otherwise how will they get a job, get married, or move out of my house?
An on-purpose decision is one that is made wisely, with prayer, thought, counsel, and research. A with-purpose decision is made for a reason, with a goal in mind and a specific aim in view. Have you sought God earnestly for His plan for you or your young person: as a child of God, as a man or a woman, as an individual with unique strengths and gifts? Would a degree be useful or perhaps necessary for the career or calling you hope to see ahead?
My Experience
After I graduated from high school in 2005, my parents and I knew I would be continuing my education in some way. I love learning, wanted to continue growing academically, and thought a credential could be useful in teaching my own children someday, Lord willing. I still wanted to be a significant part of my family's work and ministry, though, and my parents and I didn't feel that four years away at school would be the best use of my time or prepare me fully for the future.
At just the right time, the Lord introduced us to Accelerated Distance Learning through the CollegePlus! coaching program. I was blessed to be able to study from home while maintaining close relationships with my family, being involved in entrepreneurial endeavors, serving in my church and community, and developing vital practical skills.
Because I began college work right after high school, I was able to build immediately on my high school studies and make fairly quick progress. For instance, after completing Chemistry and Advanced Chemistry in high school, I was able to pass the Chemistry CLEP test and earn multiple college credits in that first-year science course. I loved studying many things, including literature, business, English, mathematics, and history, and I wrapped up my Bachelor of Arts in Liberal Studies from Thomas Edison State College in New Jersey for under $6,500 in about 18 months.
Following completion of my BA, I continued my distance-learning education with a one-year paralegal program through Oak Brook College of Law(OBCL), a Christian correspondence law school based in California, and passed a national paralegal certification test.
Have something to say about this article? Leave your comment via Facebook below!
advertise with us
Example: "Gen 1:1" "John 3" "Moses" "trust"
Advanced Search
Listen to Your Favorite Pastors