The How, What, and Why of Accelerated Distance Learning
Linnea Lewis, Homeschool Enrichment
Friday, September 09, 2011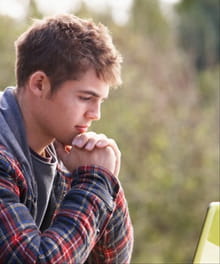 Now, let's get practical and talk about some specific Accelerated Distance Learning methods.
Credit-by-Exam
Credit-by-exam is probably the most common way to speed up the degree process and move quickly past general education requirements. College Level Examination Program (CLEP) tests are administered at hundreds of schools across the country and are available in 33 subject areas (see www.collegeboard.com/clep for official information). DANTES Subject Standardized Tests (DSSTs) were originally designed for the military but are now available for civilians as well (see www.getcollegecredit.com for more info). These tests come in 38 different subject areas, and, unlike CLEP tests, include some upper-level courses. In addition, some colleges will have their own credit-by-exam programs, including Thomas Edison State College and their TECEP exams. Oftentimes, these tests can be taken in high school, with a little extra study, after a student has completed a course in that subject.
Students will often study intensively for two–three weeks in one subject (such as U.S. History I) and then take the CLEP test, earning three–six college credits (depending on the exam) if they receive a passing score. This concentrated study method is different from the traditional college structure of studying five–six subjects simultaneously for a whole semester. One downside to the traditional model is that you have to continually switch gears from one subject to another, rather than focusing intently on certain material for a shorter period of time.
As a student who used the focused study method, I believe it allowed me to have better retention and comprehension than if I had fragmented my time between many different courses. What worked well for me, since I was traveling about an hour to the testing location, was to take four weeks to study for two tests and then take both on the same day with just a short break in between. I would usually work on an exam that required more active study/memorization, like U.S. History II, while brushing up on a test that came more easily to me, like Analyzing & Interpreting Literature.
Correspondence and Online Courses
Other distance-learning methods, like correspondence or online courses, sometimes follow a prescribed semester schedule, or they might be self-paced so students can work on their own schedules. The correspondence courses I took through OBCL were primarily textbook based, though supplemented by video or audio lectures. My assignments were submitted via e-mail for specified deadlines, and mid-term and final exams were administered through certain computer software.
Online classes are becoming more and more common, making use of technological advancements such as live video streaming, online classrooms, instant messaging, and many standard computer programs. As colleges are realizing there is a market for low-cost, flexible, efficient methods, many of them are rising to the challenge. Even with degrees that traditionally would require on-campus participation, like music or science, creative students can find ways to make distance learning work. Two of my sisters are currently commuting once a week to a university an hour away from us for applied piano lessons with an excellent, world-class professor while taking music theory, history, conducting, and aural skills classes online from a school in North Dakota. The online classes are live video streamed over the Internet, creating a very interactive, high-quality learning experience that has worked very well for our family.
How to Succeed
Distance learning requires a different mindset than the typical college classroom. While it may be true to some extent that the quality of every student's education depends on him, it is likely even truer for students pursuing distance learning. Generally, there will be no teacher spoon-feeding information. It takes a high level of self-motivation, desire to learn, and personal responsibility to succeed in a non-traditional college environment. (In reality, those same attitudes are necessary for success and growth in any setting.)
Have something to say about this article? Leave your comment via Facebook below!
advertise with us
Example: "Gen 1:1" "John 3" "Moses" "trust"
Advanced Search
Listen to Your Favorite Pastors