The How, What, and Why of Accelerated Distance Learning
Linnea Lewis, Homeschool Enrichment
Friday, September 09, 2011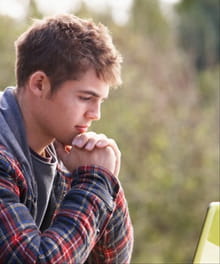 As a homeschooled student, I was already accustomed to setting my own schedule, learning on my own, and figuring out what I needed to know when; however, as a distance learner, I had to adjust to working with specific deadlines and accommodating outside schedules. I had to reserve test dates a few months in advance with a local college and then plan out my study schedule so that I was prepared for the right CLEP tests at the scheduled time. During my paralegal correspondence studies, I learned to follow a strict quarterly schedule with assignment deadlines, specific weekly requirements, and mid-term and final exams.
Whether you're doing distance learning on your own or using a coaching program likeCollegePlus!, you will need a plan in order to do well. As the saying goes, "Begin with the end in mind." You don't need a comprehensive, detailed strategy before you start taking CLEP tests as a high school student, but before you take dozens of classes or exams, it would be wise to have an understanding of what school you're likely to choose, what your field of study will be, and what general purpose God has called you to. Obviously, you don't want to earn 60 credits via credit-by-exam only to find out that the school you've applied to doesn't accept CLEP credits! Most colleges publish their credit-by-exam and transfer credit policies or can make them available as you are researching options.
True Education
I believe a student needs to be well-grounded and focused on the Lord in order to successfully navigate the temptations and distractions inherent in higher education. A strong biblical worldview and a vibrant, growing relationship with the Lord are prerequisites to college work, in my opinion. By homeschooling, you're already laying the groundwork for these very things.
In all of this, we need to understand that it's not simply going to college (or spending money on education) that will develop marketable skills or potential for earning. Nor is it only college that will make someone a more educated, articulate, or thoughtful person. Anyone who has a desire to do so can develop creativity, logic skills, academic knowledge, business acumen, networks, and relational connections through dedicated work and key mentoring relationships. The person behind the degree is really what determines how he or she relates to society as a whole, develops a fruitful career, follows a calling, and cultivates a world-changing passion.
A college degreecan be indicative of knowledge gained and is necessary in some professions. So, if it's possible to earn the credential at a fraction of the financial cost, with less spiritual risk than encountered in other methods, while pouring your heart into what you're passionate about, why not give it a try? Students can learn skills and develop relationships that will mold them into the people God wants them to be while getting a college education as a bonus. Accelerated Distance Learning is one way to accomplish this large task. Though it's not for everyone, I would highly recommend that all parents and students at least consider looking into this option if higher education is on the horizon.
Linnea Lewisis a homeschool graduate who used Accelerated Distance Learning to earn a BA and paralegal certification. In the Spring of 2011, she married Jonathan Lewis, another homeschool graduate and editor of Home School Enrichment Magazine, and is rejoicing in God's gift of marriage. She loves to share about God's faithfulness in her life, strives to be an example of joyful, purposeful, feminine womanhood, and besides enjoying her new role of wife and homemaker, also does freelance graphic design. Her design portfolio can be viewed at www.shownd.com/linnea, and she can be contacted by e-mail at linneabc@gmail.com.
1New Study Shows Homeschoolers Succeeding in College, www.hslda.org/docs/news/201008030.asp (accessed January 5, 2011)
This article was originally published in the Mar/Apr 2011 issue of Home School Enrichment Magazine. To learn more, and to request a FREE sample copy, visit www.HomeSchoolEnrichment.com
Have something to say about this article? Leave your comment via Facebook below!
advertise with us
Example: "Gen 1:1" "John 3" "Moses" "trust"
Advanced Search
Listen to Your Favorite Pastors