The Truth Behind Homeschooling
Marty Walden, Blogger
Wednesday, March 27, 2013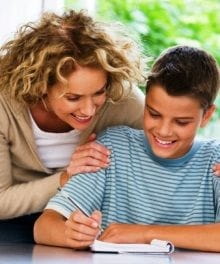 So what does this look like in our lives? How do I figure out if my children are doing "enough?" For each year I have an over arching goal/desire for my kids. When I had all five at home I was more organized and precise and detailed because it made me feel better to write down what we had done. It didn't make me a better teacher or make them learn more. It just made me feel more secure. Oh, the things God continues to teach me! He wants me to rely on Him, live one day at a time and not waste today worrying about tomorrow.
This year I've decided the hill I'm ready to die on (the over arching "goal") is communications. Now that sounds like a fancy college type class, but to me it is the ability to both speak and write clearly. My youngest two are in 8th grade, and I have felt the pressure to be more consistent and disciplined, and dare I say it, firm? Homeschooling children with attachment disorder presents unique challenges, but my kids have made such strides in healing that I feel it's time to push them in areas of academics that will prepare them for life. My two struggle with expressing their thoughts in spoken language. This is an area where we obviously have plenty of opportunities to practice. We are also working on body language and social cues, learning how to be unique without acting out for negative attention, increasing vocabulary and using correct grammar. I am also emphasizing their written language skills, implementing the same grammar and language tools through their writing. My daughter can write for pages with nary a paragraph in sight. My son writes much younger than his age because he doesn't want to misspell a word and have to look it up. He wants it perfect the first time so he doesn't have to do it again. They are practicing their writing skills through snail mail and assignments that help with organization and thought processing. It is very often a struggle but we will push through.
The benefit of years of homeschooling? Seeing the results in the lives of my adult children. Rachel is happily married, working full time and living with her husband in their first purchased home. Joshua is starting his second year at Southeastern Baptist Theological Seminary majoring in Christian studies with an emphasis on music. He has done well academically as well as personally, spiritually and emotionally. Both my kids are well adjusted, smart, funny and fun to be around. I thank God for them each day and am grateful to have no regrets for having invested so many years in their lives. I talk to both of them almost every day, through calls, texting, email or facebook. Our family get togethers are tightly held, joyfully celebrated traditions that are unique to us.
The truth behind homeschooling? Each day is an opportunity to model love and faith in front of our children, showing and receiving grace from each other. Academics matter but they are not everything. Academics are merely the tool we have chosen to teach and help our children practice real life.
Article originally ran on Marty's Musings. Used with permission.
Marty Walden is passionate about sharing her life, faith, dreams and adventures as a DIY, crafty, bargain hunting, homeschooling, memory keeping mom of both biological and adopted children. You can connect with Marty through her blog Marty's Musings, email, facebook, twitter, pinterest or google +.
Publication date: March 27, 2013
Have something to say about this article? Leave your comment via Facebook below!
advertise with us
Example: "Gen 1:1" "John 3" "Moses" "trust"
Advanced Search