When Teens Reject Their Parents
Mark Gregston, Heartlight Ministries
Thursday, May 26, 2011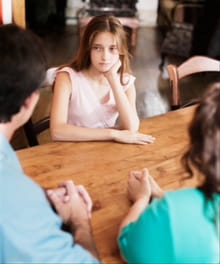 But I hated it. The pastor and I didn't connect, the music was too stale for me, and I just couldn't see us "fitting in," so Jan and I went back to our church and the kids kept going to theirs. It kept our kids in proper fellowship with other kids their age, and it reduced the tension on Sunday mornings. Our solution may seem a little radical, and it may not be applicable to others, but it worked for us. Jan and I went to the church we liked; the kids went to the church they liked. We then met for lunch afterward and shared what we had heard in our separate churches. It let us focus on what mattered most—that they were active and involved in church, not that they liked the kind of worship service we liked. I'd far rather them go to a different church–one they like and teaches the same biblical values–than to abandon church altogether. The point is this…maybe there is a creative compromise you can come up with that solves the more important issue.
Identify What's Going On…
There's a difference between struggles in the home that occur due to outright rebellion and those due to hormones and the normal growing process. A rebellious teen will end a fight with a slammed door and a feeling of satisfaction. A teen who is trying to process a changing world and find her place in it is more likely to show up with an apology a few minutes later (or at least act apologetic). Full blown rebellion is an intentional rejection of parents and their values—a deeper hatred for the parents and their values–and it's actually pretty rare.
If we respond to the hard times and struggles our teens are having as if they are rebelling, we run the risk of alienating them and damaging our relationship at the time they need it most. I encourage you to try to get beyond the surface to understand exactly what you're dealing with…and remember the transfer to independence that's underway throughout the process.
Let us not become weary in doing good, for at the proper time we will reap a harvest if we do not give up. –Galatians 6:9
Don't Ever Give Up…
I say this a lot, but it bears continuous repeating ,"Don't give up!" Just because a child rejects you, at whatever level, don't give up or walk away. And don't take it personally. We've had more than 2,500 teens come to stay with us at Heartlight. More than once I've wondered if we could make a dent in the pile of troubles that a young person brought along with their luggage. But what I've learned is to keep going—keep talking, keep praying, keep loving. We've seen wonderful transformations, and usually the worst kids turn out to be the greatest and most appreciative ones once they get on the other side of it. When I'm tempted to give up, I often think about the hundreds of weddings I've conducted for kids who lived with us here. Many of those cases seemed difficult; even hopeless, but they turned out just fine because we didn't give up on them.
Mark Gregston is an author, speaker, radio host, and the founder and director of Heartlight, a therapeutic boarding school located in East Texas. Call 903-668-2173. Visit http://www.heartlightministries.org, or to read other articles by Mark, visit http://www.markgregston.com.
Have something to say about this article? Leave your comment via Facebook below!
advertise with us
Example: "Gen 1:1" "John 3" "Moses" "trust"
Advanced Search
Listen to Your Favorite Pastors