"You're Still At Home?"
Amanda Neely
Friday, July 06, 2012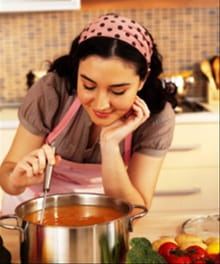 Participate in Family Ministry and Projects
The Lord has allowed our family to have a music ministry on the side (we do not travel vocationally), so we designate an hour every morning to group music practice. Along with any ministry come other jobs and opportunities for the stay-at-home daughter. For example, last year we were privileged to record a CD, and in getting that ready for press, my sisters and I spent hours proofing the recording, getting song permissions, and working on the graphic design. That relieved our dad of some of the things that he would normally have had to do, and it also filled our time productively and for the family's benefit.
Our family also enjoys gardening together, which almost guarantees that the months of June through September will be busy with putting up produce, even if we do nothing else all summer! This not only builds family unity and a team spirit of each one working for the others, it is also beneficial because it helps cut the grocery bill!
Start a Home Business
This can be a fun one! I've always been a businesswoman of sorts. Ever since I was little, I was always trying to sell things, such as pretty rocks, "jewelry" I made of copper wire, or knickknacks I didn't want anymore. And to this day, that interest hasn't changed much, although my money-making methods have become slightly more sophisticated!
When I was fourteen, my parents allowed me to start selling cookies door-to-door to different businesses in town. I continued that for about a year and half, until life made it rather impractical to continue. Now, one day a week, I teach private piano lessons. My sisters have also caught on to this idea. My oldest sister, Jessica (19), has been making jar candles for a couple years now, and my sister Kathryn (17) makes and sells hair bows. They both also teach violin lessons, and Jessi has a couple of piano students as well.
You can make a business out of many different hobbies. Do you like to sew? Maybe you could teach sewing lessons. Do you enjoy crocheting or knitting? Find a product that you can make and sell profitably. I once made a poncho for myself which several other people saw and liked: before the winter was out, I made and sold at least two or three others by request, and I wasn't even trying to get business! Maybe you find your niche in writing. Have you ever considered writing freelance for paying publications? The possibilities are almost endless!
Never Stop Learning
Keep learning new things, even if you aren't in school! I think some people hold the idea that if you don't go to college, you are burying all your potential for success and will never know anything beyond what you learned in your grade-school years. This does not have to be the case! I know many girls who are not in college but are some of the most intelligent and ambitious young ladies I know of. We know several girls who are studying professional labor support and midwifery from home. Another friend of ours is only a year older than I am, but she has already published two books and is working on two or three more. These girls are still at home under their parents' guidance and protection, but they are not by any means sitting around and twiddling their thumbs just waiting for Prince Charming to come along. Personally, though I'm not going to college, I am still continuing education in areas that I am very interested in: history, music, grassroots politics, and medicinal herbalism.
Make Free Time Productive
If you are like me, you most likely have very little free time! However, I have a mental list of things that I enjoy doing, which I make use of whenever I do have a few spare minutes. Some activities I greatly enjoy are reading, playing piano, writing articles and blog posts, managing our family website/blog, writing and arranging music, and corresponding with friends and family. Having a very busy schedule as the norm can be a blessing in more ways than one, and it tends to build our appreciation for the downtime!
As I stated earlier, these are just some practical ideas for how to spend our unmarried years. I definitely do not have all the answers, and I pray that none of this has come across as prideful—I am still very much in the learning and growing process, and that is evident every day! I only hope and pray that some of you may be encouraged and inspired to press on in whatever phase of life you are in, and to use these precious years that God has given us in a fruitful and lasting way that will bring glory to Him!
Amanda Neely is the eldest daughter of Patrick and Darlene. She loves her life, finding joy, contentment, and purpose in living at home under her father's protection, seeking to glorify the Lord by serving her family, pursuing practical skills, and preparing to be the helpmeet for her future husband. www.theneelyteam.com
Publication date: July 6, 2012
Have something to say about this article? Leave your comment via Facebook below!
advertise with us
Example: "Gen 1:1" "John 3" "Moses" "trust"
Advanced Search
Listen to Your Favorite Pastors