Homeschooling 'On the Move': Advice for Military Families
Antony Barone Kolenc, Author
Thursday, May 24, 2012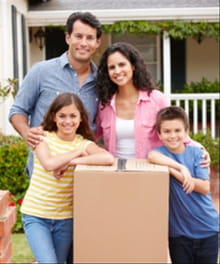 Homeschooling "on the move" presents many challenges, including a host of legal concerns. Military families, as well as some missionary and business families, move often from state to state, or even country to country. I can relate. As a member of the United States Air Force for more than 20 years, I have moved my family 15 times in nine different states, including the last 12 years as we homeschooled our five children. But, as my family learned firsthand, that nomadic lifestyle can pose legal pitfalls even for experienced homeschoolers. Remember these three key points:
1. Learn Your New Jurisdiction's Law
If your family is getting ready to move to a new state or country, you should learn about that new jurisdiction's laws on homeschooling prior to arrival. As my family has experienced, requirements vary widely from state to state, and even at times within counties of the same state. For example, when we lived in California we needed to register our homeschool program as a private school, in Georgia we needed to take daily attendance and send in a monthly roll to the school district, and now in Maryland we must bring our completed schoolwork to the local school district for review every semester. The sooner you check your new state's law, the better prepared you will be to meet its requirements.
The good news is that homeschooling is legal in all 50 U.S. states. And you can read the state law yourselves by consulting sites such as findlaw.com/casecode, or you can search out the official website of your new school district, which will usually discuss legal requirements. Of course, also check the websites of local homeschool groups for valuable information from your peers — just be sure to confirm any legal requirements using an official source.
For those military members moving overseas, the reality is a bit more complicated. If your family has been sponsored for your assignment by your military command, then your new base is likely governed by an international agreement, often called a Status of Forces Agreement (SOFA). But that agreement will not typically require any specific form of education. Thankfully, the Department of Defense (DoD) policy on homeschooling, available at http://www.dodea.edu/foia/iod/pdf/02OD002.pdf, recognizes that home education is "a sponsor's right" and is a "legitimate alternative form of education." However, the laws of the host nation may limit or regulate your right to homeschool. Overseas families should carefully read the policy letter at the link above and consult with local staff judge advocates for advice tailored to the particular host nation.
2. Know Your Home State's Law
The Servicemembers Civil Relief Act (SCRA)1 permits military members and their spouses to be legal residents in one state while residing in another state or country on military orders. For instance, my wife and I are both legal residents of Florida, our home state, though we currently live in Maryland, where I am stationed at Andrews Air Force Base. Military members will often stay legal residents of whatever state they lived in prior to military service, but not always. I grew up in New Jersey but switched my legal residence while earning my juris doctor degree at the University of Florida College of Law.
If you are one of those military homeschooling families living outside your home state, remember to keep up with the laws back home. Though you may not technically need to follow those requirements while out of state, you should still keep an eye on the local law and ensure your school district knows that you have left the state on military orders. One day your family may wish to homeschool there again, and even while you are out of state, there may be programs you can use. My family learned that lesson the hard way even though we were experienced homeschoolers. Here's what happened.
Have something to say about this article? Leave your comment via Facebook below!
advertise with us
Example: "Gen 1:1" "John 3" "Moses" "trust"
Advanced Search
Listen to Your Favorite Pastors