Profiles in Christianity & Science: Charles Babbage
Ray & Gale Lawson, Home School Enrichment Magazine
Monday, May 16, 2005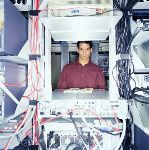 Babbage: The Scientist
In July of 1822 Charles wrote a letter to the president of the Royal Society concerning his concept for a machine that could calculate and print mathematical tables. Nearly a year later he was funded to start his work on this new machine. By 1827 he had spent the funds provided to him and began to finance his idea with his own money. This would not be something he could support on his own however. His calculating machine, which he called a "Difference Engine," would require an additional two tons of brass, as well as substantial amounts of hand-made steel and pewter clockwork. What he had done was design a mechanical computer! No keyboard, no mouse, no monitor; just an intricate collection of gears and mechanical devices!
In 1829 a group of Babbage's friend's were able to solicit additional funds from the Duke of Wellington. Although Babbage was given the money, the government hired an engineer, Joseph Clement, to perform the construction. Clement was a person with a large ego who made numerous inordinate demands of Charles. Charles decided not to advance Clement additional funds so Clement dismissed his workers and work on the Difference Engine ceased.
Rather than fret over what had happened, Babbage developed a concept for an even larger, more powerful Difference Engine; one that would provide 20 decimal places for a sixth-order difference, instead of his original design for 6 decimal places for a second-order difference. (Note: Difference equations are an advanced topic usually covered at the college level. Don't worry if you don't understand the details yet, just understand that trying to solve difference equations with a mechanical computer in the 1800's was a very revolutionary idea!)
Charles continued to ask for more funding but was told that the government did not wish to fund his new machine until he had his original one working. His efforts to raise money lasted another 8 years before he was finally told that his idea was "worthless." The government told him that for the amount of money they had invested, they should have received at least a "clever toy."
If only the government had realized the intellect of Charles Babbage and not been so short-sighted. They had little understanding of what Babbage was trying to do as evidenced by the following statement:
"On two occasions I have been asked (by members of Parliament), 'Pray, Mr. Babbage, if you put into the machine wrong figures, will the right answers come out?' I am not able rightly to apprehend the kind of confusion of ideas that could provoke such a question."

__________________________________________________________
Next week we'll explore Charles Babbage, the Christian in Part II of this series.


Ray & Gale Lawson have been homeschooling their 3 children since 1995.  Ray holds a B.S. in Electrical Engineering from the Virginia Military Institute and works for Washington Group International in Aiken, SC.  Gale holds a B.S. degree in Mechanical Engineering from the University of South Carolina and has been "full time mom and teacher" since the birth of their first child.  They are members of Breezy Hill Baptist Church in Graniteville, SC and are active in Breezy Hill's homeschool ministry.  Questions, comments and suggestions can be mailed to Ray at vmi1981@bellsouth.net or Gale at galenkids@hsenet.com
This article was originally published in the Mar/Apr '05 issue of Home School Enrichment Magazine as part of an ongoing series on Profiles in Christianity & Science.  For more information, visit http://HomeSchoolEnrichment.com .
Have something to say about this article? Leave your comment via Facebook below!
advertise with us
Example: "Gen 1:1" "John 3" "Moses" "trust"
Advanced Search
Listen to Your Favorite Pastors