7 Ways to be the Best Dad in a Crisis!
Christopher Laurie, TOS Magazine Contributor
Friday, June 13, 2014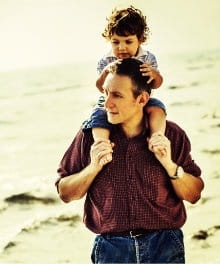 This past year has been hard on our family. My wife, Heather, has been in the hospital several times, requiring stays varying from a couple of days to more than a week. While this is not new to our family (she was on bed rest during several pregnancies), I have had to jump in to teach, cook, and run the house while doing my best to fulfill my responsibilities at work as well.
This time, Heather was not even there to guide me. I had to carry the load of the entire family's needs, the household's requirements, work my day-time job, and homeschool the children by myself. This was a stressful time for all.
In some areas we were somewhat prepared and transitioned smoothly. Unfortunately, I discovered a couple of our weaker areas the hard way. If you find yourself in charge of everything during a crisis, here are some tips that helped my family and a couple that we are now incorporating into life, just in case. I hope to share my experience and knowledge about what to do in a crisis so that you can focus on what's important: your family.
1. Know the Lay of the Land: Dads, you are the principal and head of the household. It's your job to have an idea of what's going on in your family's homeschooling and the day-to-day running of the house. Being an active member of your family's homeschool makes it easier to transition into substitute teacher mode if necessary. You don't have to guess about what is being taught or the grade levels for your children; you already know them.
2. Lesson Plan: Have your wife write out yearly, monthly, and weekly plans. The yearly plan should be just a general path for that year. The monthly plan should be more detailed, and the weekly should be very detailed, possibly including book pages/chapters or specific subjects for free study. You also need a list of all outside-the-home classes or lessons, along with times when they meet and contact numbers or email addresses.
Store all homeschooling materials in a central location. It really slows down learning to have to run a treasure hunt to locate all the homeschooling books. Each of the children has a labeled tub in which he or she places all planners, utensils, and paper, and they each have half a shelf on the bookcase, for their homeschooling books. This makes it very easy for them to grab the books for the day and take them to the table.
3. Meal Plan: Create a meal plan in detail, along with a grocery list, preferably for the month. There are many benefits to organizing meal plans, the greatest being you know what you are feeding the family. You don't have to waste time thinking about what to fix; just follow the plan.
Also, it helps save on food expenses, allowing you to coupon and look for deals while avoiding impulse buys. If needed, one month's plan can always be used for the next month too.
I like to designate themes, such as Italian Wednesdays or Seafood Fridays, to provide more structure and routine for the children. Eating out is far more expensive over the long run and also offers less nutritional value.
4. Chore Chart: Use a written-out chore chart that has already been established, which helps the family continue to run smoothly—no quibbling about who needs to do what or trying to manipulate the situation to get some unearned free time. Use of an established chore chart also assures that essential tasks, such as animal care or taking out the trash, don't fall through the cracks. We initiate our chore chart when everything is normal and work out the kinks so that when stresses occur, the family members know what they have to do and follow the routine.
5. Keep the Schedule: Try to sustain the normal routine of the home. Children (especially special needs children like those with Asperger's or autism) don't handle getting off of schedule well. They thrive and are more peaceful when following a normal daily schedule.
Have something to say about this article? Leave your comment via Facebook below!
advertise with us
Example: "Gen 1:1" "John 3" "Moses" "trust"
Advanced Search
Listen to Your Favorite Pastors