A Ship Full of Ideas: Lesson Plans on the Titanic
Amy Nicholson, TOS Magazine Contributor
Friday, April 11, 2014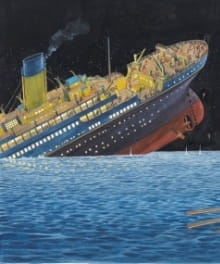 "Hast thou entered into the springs of the sea? Or hast thou walked in the search of the depth? Have the gates of death been opened unto thee? Or hast thou seen the doors of the shadow of death? Hast thou perceived the breadth of the earth? Declare if thou knowest it all..." [God answering Job] (Job 38:16–19).
"We are all on the Titanic. The reason we cannot stop talking about the great liner is because the Titanic is about everything." —John Wilson Foster
On April 14, 1912, the Titanic, touted as the "world's safest ship" on its maiden voyage from Southhampton, England, to New York City, collided with an iceberg, and sank. A total of 1,523 people died. This event left an indelible mark in history. This year will mark the anniversary of that fateful night. We can commemorate it in our classrooms with lesson plans that span the curriculum.
The lessons that follow would be most suitable for middle and high school-aged students but could be modified for use with younger children. These activities focus on research and critical thinking, urging students to delve a little deeper and see God's hand at work.
History
Read books about the Titanic. There are also some useful websites, including these: www.history.com/interactives/titanic-interactive, www.history.com/topics/titanic, www.history.com/videos/titanic-deconstructed, www.titanic-facts.com, and www.webtitanic.net.
Make a timeline of shipbuilding through history. This website is suitable for grades K– 6 but could serve as a jumping-off point for older children as well. It even features the sound of a foghorn!
Build a boat!
In 1985 the wreckage of the Titanic was discovered off the coast of Newfoundland. Historians and scientists teamed up to analyze the evidence and learn more about the story of the accident. What new evidence did they uncover? What role does science play in history? How does it aid in piecing together evidence and telling stories of the past?
Research eyewitness testimonies of the sinking. Compare these accounts with the history books. How do they differ? What do you find in first-person accounts that you don't find in the history books? What are the limitations of first-person accounts? This could also lead to an English lesson on point of view.
Social Science
There were 2,208 passengers and crew aboard the Titanic at the time of the accident. Who were they? Why were they sailing? Where were they headed? Who were some better-known passengers? Who were some lesser-known passengers? An online resource for this information can be found at www.encyclopedia-titanica.org.
The passengers were divided into three classes: first-, second-, and third-class. How did they differ, and how were their accommodations different?
Ethics
The captain of the ship, Captain Edward John Smith, received a telegraph report from New York at 9 a.m. on the fateful day, warning him of icebergs. He passed this information to his lunch guest, J. Bruce Ismay, the builder of the ship. Ismay shared the information with only a few passengers but otherwise kept it to himself until 7:15 p.m. Smith and Ismay were aware of the potential danger but failed to act on it. What should they have done? What would you have done? What is our responsibility if we know about something dangerous?
Who was responsible for the sinking of the ship? One person? A group of people? God?
Math
Have something to say about this article? Leave your comment via Facebook below!
advertise with us
Example: "Gen 1:1" "John 3" "Moses" "trust"
Advanced Search
Listen to Your Favorite Pastors