Adventurous Elementary Education
Lindy Abbott, Author/Blogger
Friday, March 21, 2014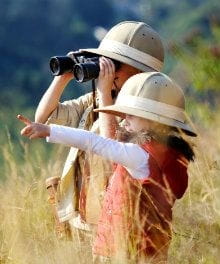 Learning should be exciting, but few students are enthusiastic about school. Many adults, recalling their school experience, realize they learned more after they were out of school. As homeschoolers we can do things differently by providing more opportunities for real learning. Elementary years should be adventure years instead of drudgery. I consistently reminded my children, "Be your utmost for God's highest." I have tried to provide the richest environments, opportunities, and resources within our means, but I foolishly adhered to graded-schooling methods. While my underlying goal was to equip my children to become the person God created each one to be, my daily lesson plans did not support this goal.
Every now and then a nonconformist soul dared to ask: "Why must we do school? What is the purpose or goal? Can we try something different?" Thankfully, I began to question my method of teaching my children.
Traditional elementary schools condition children to succumb to group culture by coloring within the lines, thinking inside the box, responding to bells, and copying a teacher's model. Parents desiring to help their child become who God created them to be should not try to emulate conventional schooling, because it reduces a child's natural passion, innovation, and industry. Let me explain.
The concept of dividing schooling into grade levels became necessary with compulsory school attendance. Categorization of the mass population of children by age and grade level was beneficial to the organization of school systems. Think about it: Does it really matter what you call the grade level as long as your child is learning?
With the creation of grade levels, book publishers developed graded textbooks specifically produced for the "typical" age of development and interest. One problem with this system is that God does not form "typical" infants within a mother's womb. In a homeschool, grade-level materials are unnecessary and frequently are developmentally inappropriate. Undoubtedly, early elementary years are the time to teach a sound foundation in reading, writing, and math. Once these basic building blocks of learning are established, children should explore what they enjoy through self-motivated study.
Consider this question: Does God create a typical snowflake, fingerprint, or DNA? Every parent knows that no two children are alike; moreover, they have wide ranges of development, ability, interest, and personality. Jeremiah 29:11 proclaims, "For I know the thoughts that I think toward you,' saith the LORD, 'thoughts of peace, and not of evil, to give you an expected end." This commonly quoted verse that God spoke to the Israelites when they were in exile reveals His character and encourages believers to look with hope toward our God-designed purpose. Parents should apply this Biblical teaching to their children's homeschooling and try to create wonderful adventure years of learning by not focusing on "grade level"!
If a child is going to discover what he loves, he must have (1) numerous real-life experiences to identify his niche and (2) time to thoroughly delve into any subject. Most states have legally required credits and specific coursework that must be taken during high school, but few states have strict requirements for the elementary years. While for state records we must follow the charade of saying our child is in fourth, fifth, or sixth grade, parents should—with gusto—use the freedom allowed in elementary years to liberate their children from grade levels created by and for educational systems. We all know from personal experience how dull and repetitive grade-level schooling can be. Subjects are covered in broad topics and separated into daily lessons for a scheduled amount of time. Diligent students develop short-term memory skills to recall facts (year after year) for testing, not for learning. Similarly, a child memorizing random individual Bible verses to be checked off for a program does not produce long-term results. A child may have "memorized" hundreds of verses but years later can recall only a handful. Parents need to encourage their child to enjoy the experience of studying in-depth, an essential life skill for both inductive Bible study and specializing in a career.
Have something to say about this article? Leave your comment via Facebook below!
advertise with us
Example: "Gen 1:1" "John 3" "Moses" "trust"
Advanced Search
Listen to Your Favorite Pastors