Cars That Run on "Juice"
Ray & Gale Lawson, Homeschool Enrichment
Tuesday, October 25, 2011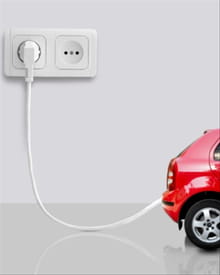 True or False: Electric cars are slow.
False. The 2008 Shelby Aero EV (EV means "Electric Vehicle") used two electric motors to generate 1,000 horsepower. It had a top speed of 208 miles per hour.
OhioState Universitybuilt an electric car called the Buckeye Bullet that topped out at 320 miles per hour at the Bonneville Salt Flats in 2010.
True or False: Electric cars can't go very far on a single charge.
False. In 2010, an electric Audi A2 traveled 372 miles nonstop on a single charge.
Also in 2010, an electric Daihatsu Mira van traveled 623 miles on a single charge.
It is estimated that the average American drives about 40 miles each day. Range should not be a big problem.
True or False: Electric cars will not be accepted because there are no places to plug them in.
Probably false. Some people believe that it will be difficult to find a place to recharge electric cars. That is unlikely to be much of a problem. In many colder climates, cars have engine block heaters installed to help start them in very cold weather. The power for these heaters is provided at homes and many businesses. The ability to provide electricity for charging should not be a problem.
Some energy sources, wind and solar for example, may be good for generating electricity for charging batteries. Although there have been advances in both wind and solar power, it does not appear that they will be able to provide a significant source of electricity to meet the demands of running homes and businesses in most areas. However, they may serve as very good sources for the demand of charging vehicles over the course of a day.
Career Options
The automobile industry has traditionally employed a lot of skilled laborers, mechanical engineers, and industrial designers. Manufacturing electric cars requires the talents of electrical engineers (for the power system), computer engineers (for monitoring and control), and chemists (for the development of better batteries). These are some career paths you may wish to explore.
Ray and Gale Lawsonhave been homeschooling their three children since 1995. Ray holds a BS in Electrical Engineering from the Virginia Military Institute and is pursuing a Masters in Nuclear Engineering at the University of South Carolina. He works for Savannah River Nuclear Solutions, LLC. Gale holds a BS in Mechanical Engineering from the University of South Carolina and is full-time mom and teacher. They are members of Breezy Hill Baptist Church in Graniteville, SC. Questions, comments, and suggestions are always welcomed and can be e-mailed to them at vmi1981@bellsouth.net (Ray) or galenkids@bellsouth.net (Gale).
This article was originally published in the Mar/Apr 2011 issue of HomeSchoolEnrichment Magazine. To learn more, and to request a FREE sample copy, visit www.HomeSchoolEnrichment.com.
Have something to say about this article? Leave your comment via Facebook below!
advertise with us
Example: "Gen 1:1" "John 3" "Moses" "trust"
Advanced Search
Listen to Your Favorite Pastors