Convention Attendance: Preparation for the Next School Year
Wendy Hilton, TOS Conventions Coordinator
Friday, January 18, 2013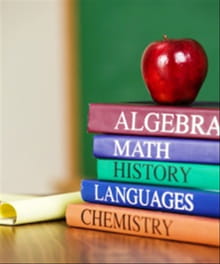 Every year toward the end of winter, I become tired of the cold weather, the children are bored and are suffering from cabin fever, and it seems like spring will never arrive! I've discovered that one of the best ways to get refreshed and revived is to begin planning for the next homeschool year. My excitement is increased if I keep in mind the fact that once the planning is over I will be ready to purchase everything I need for the next year. After all, what other activity lifts the spirits of a homeschooling mom more than shopping for new materials?
Plan Your Curriculum Early
By beginning my planning in February or March, I avoid lots of stress. I have plenty of time to carefully consider what has worked well during the current year and what could use a change. I don't want to wait until time for school to begin in the fall to make my curriculum choices. When I wait that late, I feel pressured to buy something soon, and therefore I might not make the best choices for my family.
I am also able to place my order rather than waiting until the summer months, when the possibility of my items being placed on back-order is much higher. I remember one particular year when this very thing happened to me. I had carefully planned and chosen my curriculum, but I procrastinated when it came to buying it. When I finally did get ready to make my purchases, many of the items I needed were back-ordered. I was so disappointed! There is not much that thrills me more than a box full of brand-new (or new-to-me) schoolbooks for a new school year. Forget reading a novel on the seashore under a beach umbrella! Give me a box brimming over with literature, math, science, notebooks, workbooks, and unit studies any day!
Attend a Convention
Another great way to prepare for the coming school year is to attend a homeschool convention or two. I love listening to the speakers, attending workshops and classes, perusing the vendor hall, and visiting with other homeschooling families. It is so encouraging to see the growing number of families who are choosing to make the sacrifices that homeschooling requires and who are also enjoying the benefits. Every year I meet many new homeschooling moms (some who are new to homeschooling and some who are veterans) and have a chance to visit and talk for a while with at least one or two of them.
It is well worth the effort to reach out to another mom when you attend your convention. I have learned so much from other moms! After all, aren't we the real "experts" when it comes to teaching our own children? Make time to eat lunch or shop at the vendor hall together. Take the opportunity to discuss your teaching styles, routines, and tips or tricks that work well for you. Then give her a chance to share hers!
Discuss your curriculum choices too. Other moms introduced to me to most of my favorite curricula, which I currently use with my children. Other moms also introduced me to many of the books that my children and I have read and loved over the past twelve years that we've homeschooled. While you are already there at the convention, take a look at some of the suggested curricula and books to see if they might be just what you need. If you're not absolutely sure that a curriculum or other item is just what you need, though, don't buy it at the convention. Instead, pick up a catalog or brochure to look at and take the time to learn all you can about it before making a purchase. It's better to order later, even if you have to pay shipping, than it is to get home only to regret your purchase and wish you had waited to think it over. (Ask me how I know this!)
While you are at the convention, there are several things you will probably want to be sure to do. First, be sure to hear the keynote speaker's address. If classes are offered, it is a great idea to attend at least a few of them. Also, try to listen to one or two vendor workshops if they are available for items you are interested in purchasing or learning more about.
Have something to say about this article? Leave your comment via Facebook below!
advertise with us
Example: "Gen 1:1" "John 3" "Moses" "trust"
Advanced Search
Listen to Your Favorite Pastors