Creating a Lapbook About Horses
Katie Kubesh, The Old Schoolhouse Magazine
Tuesday, September 27, 2011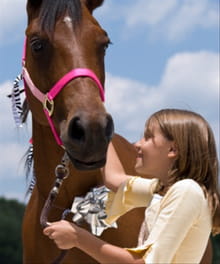 Body Language
If you ever wonder what a horse is feeling, look at its face and ears! A horse's body language is a good indicator of how the horse is feeling. Explore the different ways that horses communicate with each other and with humans. If possible, have your child observe a horse and record in a journal what he or she notices. Are the horse's ears forward and flickering? Are the ears pinned back? Are its nostrils flared? Is one ear forward and one ear back? What do all these things mean?
Horse Breeds
What are the different breeds of horses? Have your child pick one (or more) of his favorites and write a brief report about that breed, including the average height and weight of the breed, common color, where the breed originated, distinctive markings, and other interesting facts.
How Horses Are Useful
Horses are able to follow basic commands and have been very useful to man throughout history. Research at least five ways that horses have been useful to man. Visit a racetrack, recreational facility, or a farm where horses are used as part of the work team. Explore the etymology of the term horsepower to learn when, where, and how the term was first coined.
How to Care for a Horse
What do horses need to survive? Visit a local farm or veterinarian's office to find out. Or do some research online and at the library to identify the basic needs of horses, including food, shelter, and veterinary care. Find out which basic pieces of equipment are needed to ride horses.
Identification Terms
A horse is a horse, but during your research you may come across a variety of terms that are used to identify a horse, depending on its age and gender. Encourage your student to become familiar with different terms used to identify horses, including these: foal, colt, stallion, gelding, filly, mare, dam, and sire.
Famous Horses
From racehorses to cartoon characters, horses have made a name for themselves throughout history. What are some of your favorite horse characters? Is your favorite horse a real horse or a fictional character? Famous horses your student may want to investigate include Black Beauty, Mr. Ed, Barbaro, Citation, Seabiscuit, Silver, and Trigger. Encourage your child to create his or her own imaginary horse character! Write a story about a horse, or create finger puppets to act out a horse-themed play.
Vocabulary Terms
As with any study, vocabulary is important! Find the definitions of relevant or new words as you go through the study. Some vocabulary terms you may want to include in your horse lapbook include these: breed, canter, colt, farrier, filly, foal, gait, gallop, gelding, herbivore, mare, reins, sire, stallion, thoroughbred, trot, walk.
Related Reading
Don't forget to read some fun books about horses! Some horse-related books include these: Mrs. Mack by Patricia Polacco, H Is for Horse: An Equestrian Alphabet by Mike Ulmer, I Wonder Why Horses Wear Shoesby Jacki Gaff, The Kingfisher Illustrated Horse & Pony Encyclopediaby Sandy Ransford, and Horse Sense by Beth Gruber.
Completing Your Horse Lapbook
To complete your horse lapbook, simply fold the file folder(s) shutter style and attach the mini booklets and other graphics to the lapbook. Your completed horse lapbook has become a portfolio of your student's study of the horse! Your horse lapbook is easy to store and will fit into a file cabinet, file folder, or magazine holder with ease. Pull the horse lapbook out again and again to review and reminisce about the great things you and your child learned about the magnificent horse!
Katie Kubesh is co-owner and writer/researcher for In the Hands of a Child. Recognizing that hands-on projects are essential to the learning experience, In the Hands of a Child has created project packs that go beyond the hands-on aspect. They have taken the preparation time out of the parent/teacher job description with complete, ready-to-assemble, lapbook-style units that are available in ebook, printed book, and CD formats. Please visit their website at http://www.handsofachild.com/.
Copyright, 2011. Used with permission. All rights reserved by author. Originally appeared in The Old Schoolhouse®Magazine, Summer 2011.
Visit The Old Schoolhouse® at www.TheHomeschoolMagazine.com to view a full-length sample copy of the magazine especially for homeschoolers. Click the graphic of the moving computer monitor on the left. Email the Publisher at Publisher@TheHomeschoolMagazine.com.
Have something to say about this article? Leave your comment via Facebook below!
advertise with us
Example: "Gen 1:1" "John 3" "Moses" "trust"
Advanced Search
Listen to Your Favorite Pastors