Family Journaling: Unleashing the Writer Within
Jill Novak, Founder, Remembrance Press
Monday, September 03, 2012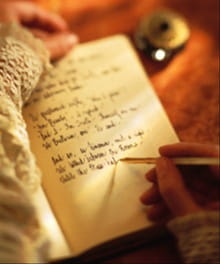 Editor's Note: This article originally appeared in the February 2012 issue of The Old Schoolhouse® Magazine, the trade magazine for homeschool families. Read the magazine free at www.TOSMagazine.com or read it on the go and download the free TOS apps to read the magazine on your mobile devices.
"Everyone reaches, but not everyone touches. . . . Reaching is instinctive, but for the most part touching is learned. For in touching we give and receive, talk and listen, share ourselves and see into another. And not everyone can do that or will do it."—Gail MacDonald1
The purpose of this article is to hit a nerve—a place deep down inside. You may or may not be aware of it, but I want to touch your journaling nerve. I'm going to poke and prod and help you find the writer within, and the writer within your child. If you don't like to write or don't like the methods or curriculum you've tried, I hope to persuade you that family journaling can be fun and rewarding. And if you already write with or about your family, I hope to encourage you to continue because "now" is the time to record your life experiences while they're happening.
Have you ever thought about how extraordinary your life is? On any given day, no one will have the same experiences you do or even begin to see them from your perspective. You are "uniquely"' you. And every day is filled with life stories you won't remember unless you "keep"' them in a journal. It's a proven fact that children value writing more in a family where the parents and the siblings frequently write, so how about journaling together? You might think that's a new idea, but actually it's centuries old.
Recently, I studied Louisa May Alcott's life in-depth for an article I was writing for our magazine, The Girlhood Home Companion. When I began my research, I was pleasantly surprised to see that she had extensively journaled throughout her lifetime. Both of Louisa's parents journaled, so growing up in a literary atmosphere, she and her sisters were also required to keep journals.2
Starting around the age of 10, Louisa kept all the poetry she wrote, letters from her mother, accounts of the lessons her father taught, lyrics of hymns, observances of everyday moments, and the profits she earned from sewing, teaching, and selling books. It was thrilling to read the firsthand account of her early home life and track her literary career leading up to the writing of Little Women.3
Louisa's mother, Abigail Alcott (Marmee), also wrote in Louisa's journal (a practice we call interactive or shared journaling today). Upon one occasion she planted these seeds of vision:
Dear Louy,
Your handwriting improves very fast. Take pains and do not be in a hurry. I like to have you make observations about our conversations and your own thoughts. It helps you to express them and to understand your little self. Remember, dear girl, that a diary should be an epitome of your life. May it be a record of pure thought and good actions, then you will indeed be the precious child of your loving mother.4
Until she authored Little Women, Louisa had mostly written "pot boilers"' (sensational thrillers written to provide a livelihood for herself and her family).5 It wasn't until she was asked to write a novel for girls that she was able to draw upon the unique childhood experiences she shared growing up in a poverty-stricken household with three sisters. Louisa completed Part One of her popular novel in a month's time.6 I believe the reason she was able to write so fast is that her journal held a plethora of detailed accounts of past experiences to draw upon. Originally, she thought the beginning chapters were dull, but being quite surprised at her success she said:" It reads better than I expected. We really lived most of it, and if it succeeds, that will be the reason for it." In Louisa May Alcott's case, writing from what she knew brought her literary success.
Have something to say about this article? Leave your comment via Facebook below!
advertise with us
Example: "Gen 1:1" "John 3" "Moses" "trust"
Advanced Search
Listen to Your Favorite Pastors