From Grocer to Grace: Reforming the Picky Eater
Mary Garrett, CHES
Monday, June 18, 2012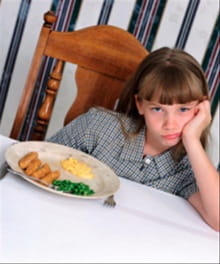 Once home with your treasures, search the Internet with your child to learn more about the foods you purchased—interesting facts and recipes. Invite your child to choose which recipe to prepare. Recipes with photographs will help your child decide what is visually appealing. Some helpful search engines include www.myrecipes.com, www.vegetariantimes.com, and www.epicurious.com. Often, simple recipes that somewhat resemble the food's prior self helps. Involve your budding chef in the preparation and cooking process and let her set the table and decide on an appealing presentation/delivery of the food to the family. Have her share with the family about her experience, including what she enjoyed the most and enjoyed the least during the process.
Since my children are 11 and 8 years old, I have them choose one food item on the dinner menu and investigate the nutritional information online using resources such as nutritiondata.com. At dinnertime, each child shares what he or she has learned. It's amazing what benefits you will discover about everyday foods. What better way to celebrate earth's bounty and God's grace?
One final caveat: your child may not like the taste or texture of your food adventure find and that's okay, because she will love the process, enjoy the time spent with you, and will look forward to the next adventure. Children may not become overnight connoisseurs of exotic delicacies, but what you will cultivate is a love for discovery and the opportunity to overcome the fear of trying new foods.
The Food Game: Making Ingredients Work Together
This is a great rainy day game that will build teamwork as you learn about nutrition and culinary techniques. Works best with children over age 8.
Items:
12 sheets of paper or card stock, in 12 different colors
Black marker
Notepad
Directions:
1. On your notepad make a list of food items in your pantry and refrigerator, categorizing them by food types, such as these, for example:
• Grains: brown rice, quinoa, millet, grits
• Legumes: black beans, split peas, lentils, navy beans, refried beans
• Vegetables: spinach, broccoli, carrots, cucumbers, radishes, etc.
• Protein: chicken breast, pork tenderloin, shrimp, halibut, steak, ground hamburger, canned tuna
• Fruits: peaches, dried cranberries, apples, applesauce, oranges
• Nuts/Seeds: walnuts, peanuts, pecans, almonds, pine nuts, pumpkin seeds, sunflower
• Spices: cumin, curry, coriander, paprika, cayenne pepper, turmeric, mustard seed, garlic
• Herbs: cilantro, parsley, tarragon, thyme, rosemary, dill, bay leaf
• Canned Sauce/Paste: tomato sauce, mashed pumpkin, coconut milk
• Vinegars: apple cider, balsamic, red/white wine vinegar
• Oils: macadamia, safflower, olive oil, canola, sesame
• Condiments: Dijon mustard, black bean sauce, curry paste, miso, soy sauce
2. Have your children assign each category a different color and make a small card for each food item on your list, writing the item name on one side and leaving the other side blank.
3. Mix up the cards and place face down on the table; have your children pick one of each color.
4. Turn cards over; with these ingredients, have your child help you create a delicious meal.
5. You can also add categories for the cooking utensils and methods, such as "whisk" or "broil."
This game teaches children how to make wonderful meal creations with what is available and forces them to get creative about food preparation.
Have something to say about this article? Leave your comment via Facebook below!
advertise with us
Example: "Gen 1:1" "John 3" "Moses" "trust"
Advanced Search
Listen to Your Favorite Pastors