Give Thanks! A Unit Study About Gratefulness
Tuesday, January 17, 2012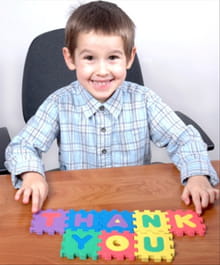 As homeschooling families, we have the opportunity daily to nurture Godly character in our children, both by example and via instruction. Gratefulness is a character quality that is pleasing to God. We know this because throughout His Word, in both the Old and New Testaments, He tells us to be thankful people, to give thanks, in verses such as these:
• "Give thanks unto the Lord, call upon his name, make known his deeds among the people." (1 Chronicles 16:8)
• "In every thing give thanks: for this is the will of God in Christ Jesus concerning you." (1 Thessalonians 5:18)
• "It is a good thing to give thanks unto the Lord, and to sing praises unto thy name, O most High." (Psalm 92:1)
Gratefulness is a demonstration of humility, which God commands us to seek. (See Zephaniah 2:3, 1 Peter 5:5, Matthew 18:4, James 4:6, Micah 6:8, and 2 Chronicles 7:14.) As we express gratitude, we acknowledge the benefits we have received from others, whether those are tangible benefits such as food and clothing or intangible ones such as prayer support. To give thanks is to remove the focus from myself and deliberately to honor others, to highly esteem them and thus encourage them. These are choices that please our heavenly Father and bless others. (See 1 Timothy 2:1, Hebrews 3:13, 2 Corinthians 9:7, and Jude 3.)
Although the possibilities are unlimited, here are a few ways that you could learn about giving thanks in your school.
Bible
The Word of God is the best starting point for any subject, and it certainly is the best starting point for this study!
• Teach your students how to use a Strong's Concordance. Identify and list all of the verses that use these words: thanks, thankfulness, thankful, grateful, gratitude, and thanksgiving. Together, look up these verses and read them out loud. Based on what you learn from these verses, compose an excellent definition of gratefulness.
• Identify, list, read, and discuss accounts in the Bible in which individuals or groups of people expressed their gratitude. How, why, when, and where did they express their gratitude? How can you apply in your life the wisdom gained through observation of their examples? Is it acceptable for individuals to express gratitude in different ways? Discuss your answers.
• Younger students: Memorize a short Psalm of thanksgiving. Think up simple hand motions that would illustrate the message to carry out as the Psalm is quoted to others.
• Older students: Select a favorite Psalm and do a thorough word study of the main verbs used in that Psalm, recording the Hebrew words and their definitions. How can he/she personally apply what has been learned through the study of that Psalm—this week?
• When did Jesus give thanks? Locate all of the verses in the Bible that record accounts of situations in which the Lord Jesus gave thanks. Design a poster that includes the passage reference, a simple description of the thanksgiving Jesus expressed, and an appropriate illustration.
• The Old Testament records several accounts of situations in which Godly leaders spoke words of repentance, thanksgiving, praise, and worship to God. Read and study these passages with the goals of (1) learning how to better express praise and thanksgiving to God yourself, (2) gaining wisdom, and (3) gaining knowledge about Godly individuals, especially Godly leaders who demonstrated the character quality of gratefulness with their words and actions.
• http://www.sundayschoolsources.com/classmat/thankfulworksheet.htm—A simple worksheet "Be Ye Thankful" in which the student is provided with fill-in-the-blank Scripture verses that answer the following questions: Who gives thanks? When? Why? How? By whose authority? For what? What else is it called?
Have something to say about this article? Leave your comment via Facebook below!
advertise with us
Example: "Gen 1:1" "John 3" "Moses" "trust"
Advanced Search
Listen to Your Favorite Pastors